I've searched and searched for answers to this, but found that there is no blue book for Holiday Barbies.
So this guide is based on not only personal experience, but also based on those Holiday Barbies sold at true Auction Houses!
This is a full list, including pictures, of each Holiday Barbie ever available and it's true value. (Up to date!)
Use this the next time you decide you're going to purchase a Holiday Barbie to know if you're getting a good deal or being ripped off!
Here's a helpful guide to determine which one you might have and it's worth!
Mint In Box (MIB) = The plastic is clear, there are no tears to the box, looks as good as if it just left the factory!
Never Removed From Box (NRFB) = The Barbie is still inside the box, but the box isn't Mint. There might be some yellowing to the plastic and the glue holding the plastic top and bottom might be losing it's grip. Overall General shelf wear.
Damaged Box = There is significant damage to the box but the Barbie is still attached inside. The damage can be anywhere between a tear or cut in the front plastic, the cardboard box being crushed completely or the top or bottom plastic holders are missing.
Removed From Box but still Mint = This is where the Box is completely gone but the Barbie has all her accessories (including her brush, stand and shoes!) and still looks as good as she was in the box. Usually these Barbies are taken from the box and immediately placed in a display case for safe keeping.
Removed from Box = This Barbie is removed from her box but doesn't have all her accessories and may need some TLC to her hair as she was used for play, not for display.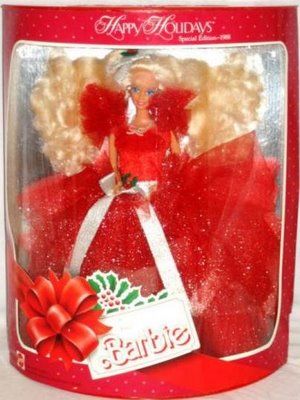 1988 Happy Holidays Barbie
Mint In Box (MIB) = $100 - $200
Never Removed From Box (NRFB) = $60 - $100
Damaged Box = $50 - $60
Removed From Box but still Mint = $30 - $40
Removed From Box = $ 10 - $ 25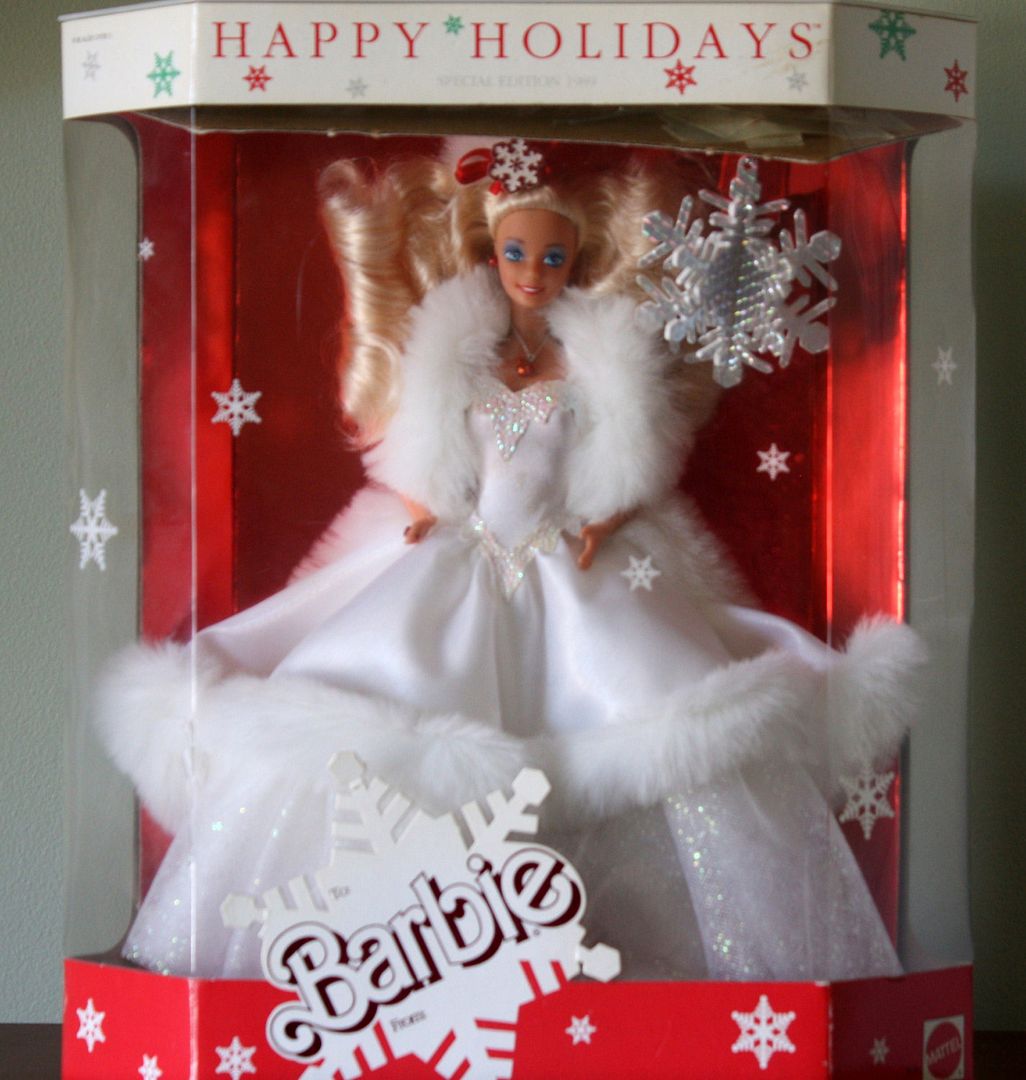 1989 Happy Holidays Barbie
Mint In Box (MIB) = $35 - $40
Never Removed From Box (NRFB) = $ 30 - $35
Damaged Box = $ 20 - $30
Removed From Box but still Mint = $ 10 - $ 20
Removed From Box = $ 3 - $10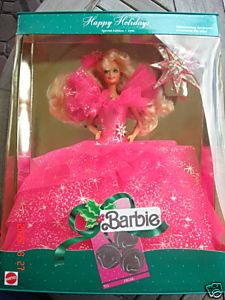 1990 Happy Holidays Barbie
Mint In Box (MIB) = $20 - $30
Never Removed From Box (NRFB) = $ 15 - $20
Damaged Box = $ 10 - $15
Removed From Box but still Mint = $ 5 - $10
Removed From Box = $ 5 - $ 8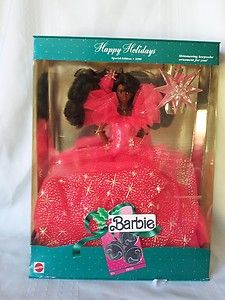 1990 Happy Holidays Barbie - African America
Mint In Box (MIB) = $30 - $35
Never Removed From Box (NRFB) = $25 - $30
Damaged Box = $ 20 - $ 25
Removed From Box but still Mint = $ 10 - $ 15
Removed From Box = $ 10 - $ 15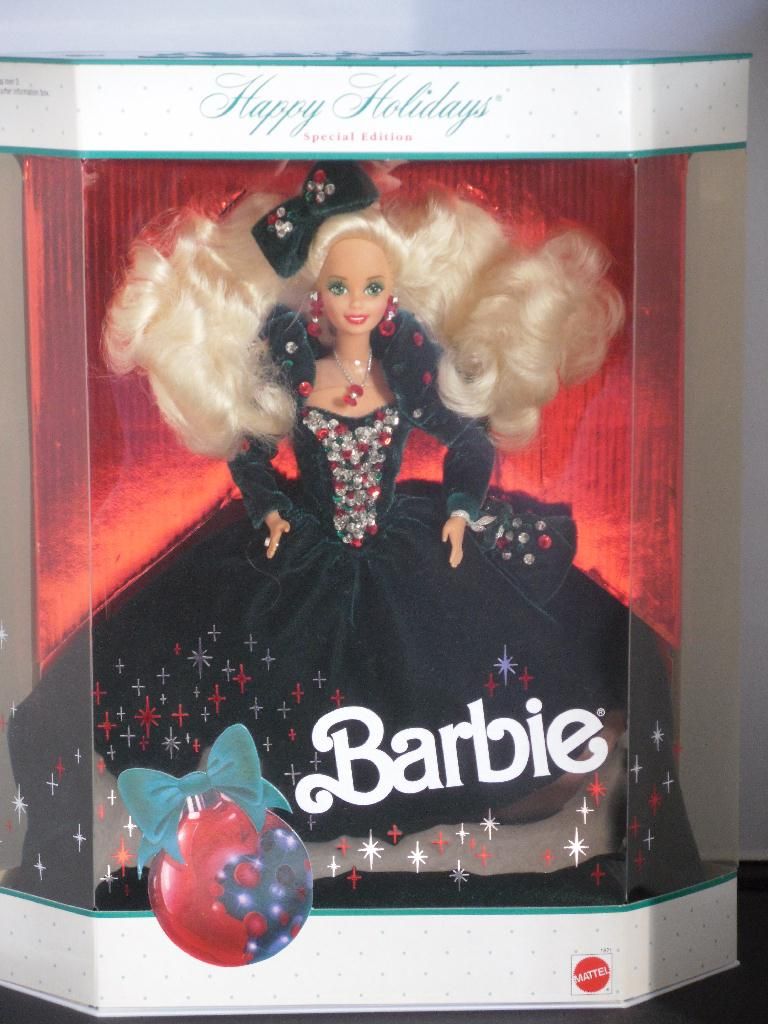 1991 Happy Holidays Barbie
Mint In Box (MIB) = $25 - $30
Never Removed From Box (NRFB) = $20 - $25
Damaged Box = $ 15 - $ 20
Removed From Box but still Mint = $10 - $15
Removed From Box = $ 7 - $ 10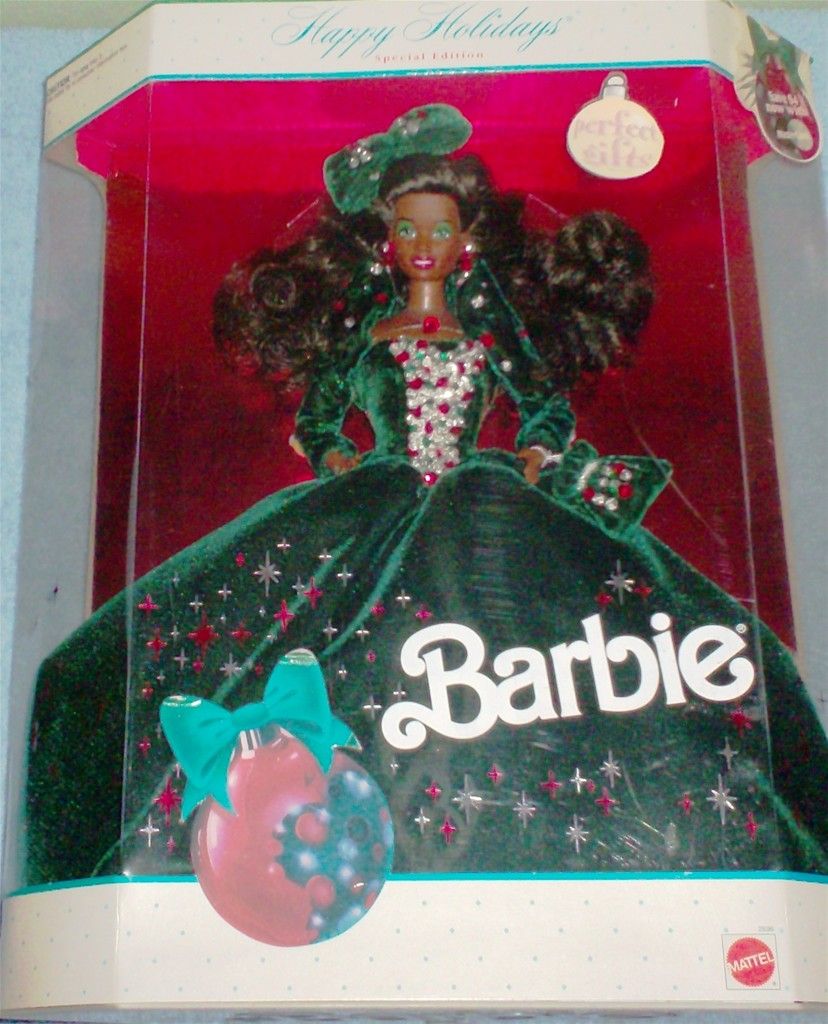 1991 Happy Holidays Barbie - African American
Mint In Box (MIB) = $25 - $30
Never Removed From Box (NRFB) = $20 - $25
Damaged Box = $ 15 - $ 20
Removed From Box but still Mint = $ 10 - $ 15
Removed From Box = $ 7 - $ 10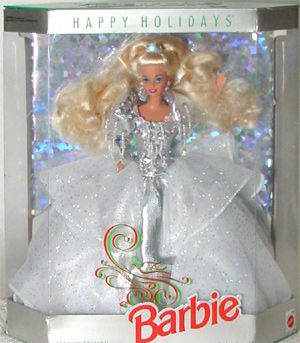 1992 Happy Holidays Barbie
Mint In Box (MIB) = $25 - $30
Never Removed From Box (NRFB) = $ 20 - $25
Damaged Box = $ 10 - $15
Removed From Box but still Mint = $ 10 - $ 15
Removed From Box = $ 5 - $ 10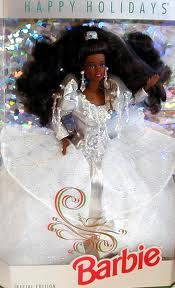 1992 Happy Holidays Barbie - African American
Mint In Box (MIB) = $25 - $30
Never Removed From Box (NRFB) = $ 20 - $25
Damaged Box = $ 10 - $15
Removed From Box but still Mint = $ 10 - $ 25
Removed From Box = $ 5 - $ 10
-+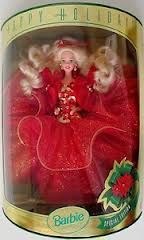 1993 Happy Holidays Barbie
Mint In Box (MIB) = $20 - $25
Never Removed From Box (NRFB) = $ 15 - $ 20
Damaged Box = $ 5 - $ 10
Removed From Box but still Mint = $ 4 - $ 5
Removed From Box = $ 3 - $ 5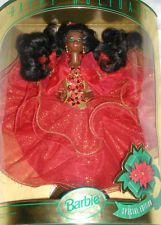 1993 Happy Holidays Barbie- African American
Mint In Box (MIB) = $20 - $25
Never Removed From Box (NRFB) = $ 15 - $ 20
Damaged Box = $ 5 - $ 10
Removed From Box but still Mint = $ 4 - $ 5
Removed From Box = $ 5 - $ 10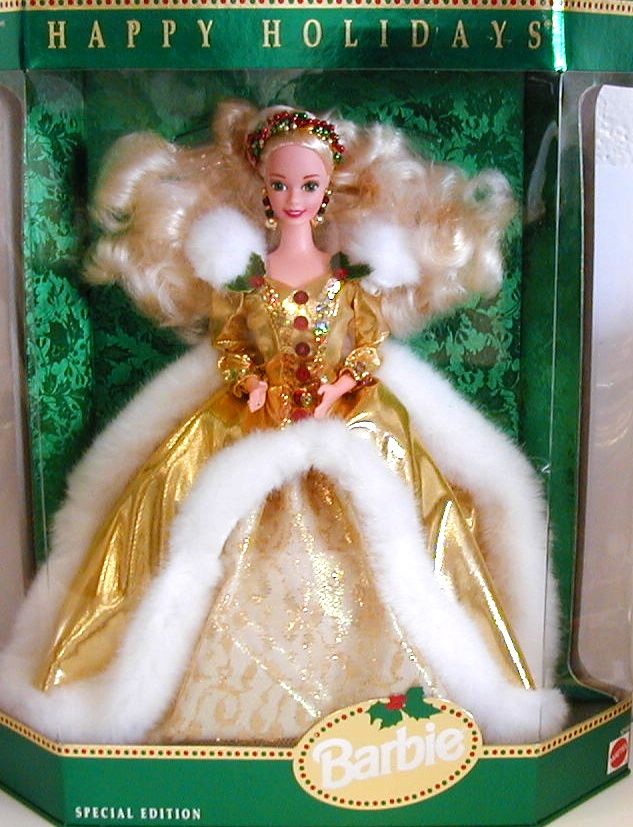 1994 Happy Holidays Barbie
Mint In Box (MIB) = $ 30 - $ 35
Never Removed From Box (NRFB) = $ 20 - $25
Damaged Box = $ 10 - $ 20
Removed From Box but still Mint = $ 10 - $ 15
Removed From Box = $ 5 - $ 10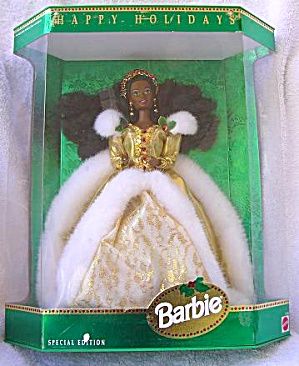 1994 Happy Holidays Barbie - African American
Mint In Box (MIB) = $ 30 - $35
Never Removed From Box (NRFB) = $ 20 - $25
Damaged Box = $ 10 - $ 20
Removed From Box but still Mint = $ 10 - $ 15
Removed From Box = $ 5 - $ 10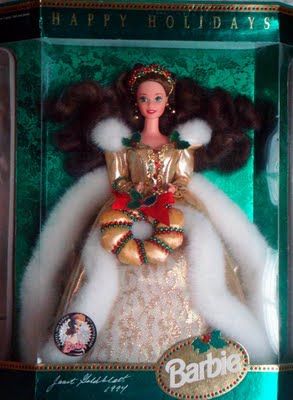 1994 Happy Holidays Barbie -Rare Festival Brunette
(Only 540 Exist)
Mint In Box (MIB) = $800 - $1200
Never Removed From Box (NRFB) = $400 - $700
Damaged Box = $200 - $300
Removed From Box but still Mint = $150 - $200
Removed From Box = $ 50 - $125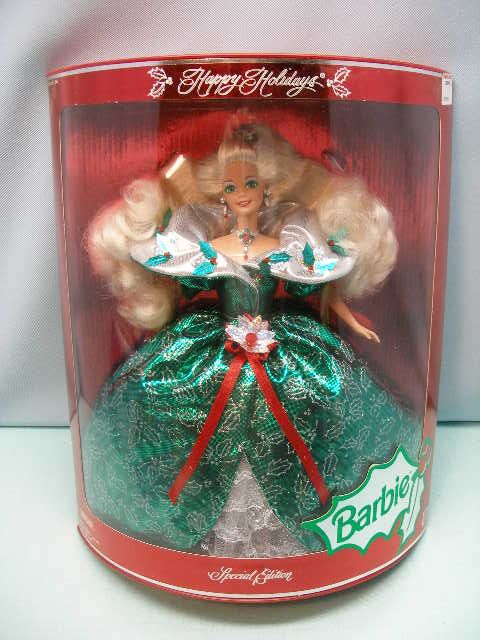 1995 Happy Holidays Barbie
Mint In Box (MIB) = $15 - $25
Never Removed From Box (NRFB) = $10 - $15
Damaged Box = $5 - $10
Removed From Box but still Mint = $3 - $5
Removed From Box = $ 3 - $5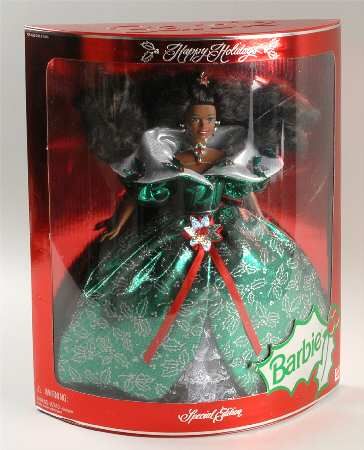 1995 Happy Holidays Barbie - African American
Mint In Box (MIB) = $15 - $25
Never Removed From Box (NRFB) = $10 - $15
Damaged Box = $5 - $10
Removed From Box but still Mint = $3 - $5
Removed From Box = $ 3 - $5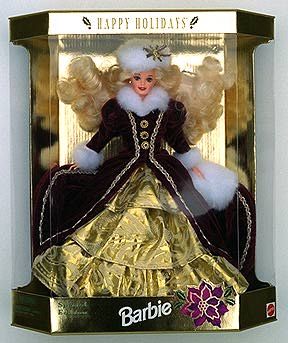 1996 Happy Holidays Barbie
Mint In Box (MIB) = $15 - $20
Never Removed From Box (NRFB) = $10 - $15
Damaged Box = $3 - $15
Removed From Box but still Mint = $3 - $5
Removed From Box = $ 3 - $5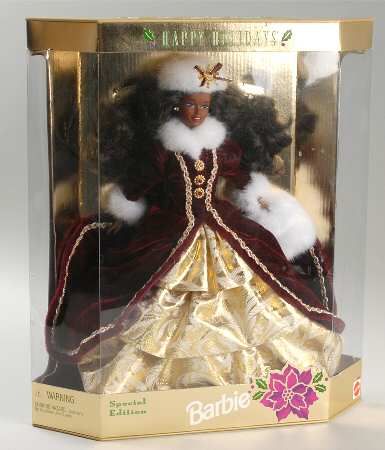 1996 Happy Holidays Barbie -African American
Mint In Box (MIB) = $15 - $20
Never Removed From Box (NRFB) = $10 - $15
Damaged Box = $3 - $15
Removed From Box but still Mint = $3 - $5
Removed From Box = $ 3 - $5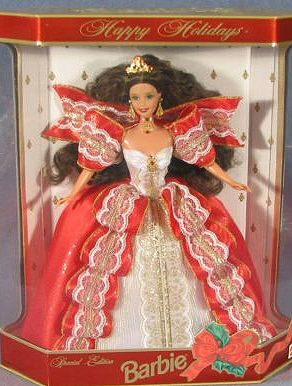 1997 Happy Holidays Barbie
Mint In Box (MIB) = $15 - $20
Never Removed From Box (NRFB) = $10 - $15
Damaged Box = $5 - $9
Removed From Box but still Mint = $3 - $5
Removed From Box = $ 3 - $5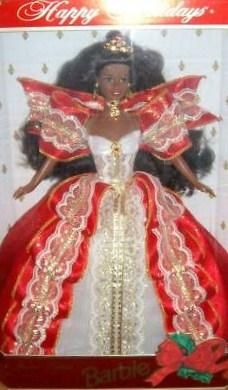 1997 Happy Holidays Barbie - African American
Mint In Box (MIB) = $15 - $20
Never Removed From Box (NRFB) = $10 - $15
Damaged Box = $5 - $9
Removed From Box but still Mint = $3 - $5
Removed From Box = $ 3 - $5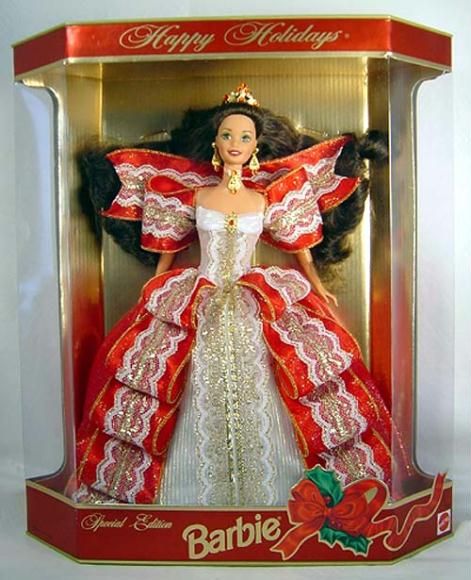 1997 Happy Holidays Barbie - Gold Background (Early Release)
Mint In Box (MIB) = $25 - $30

Never Removed From Box (NRFB) = $10 - $15
Damaged Box = $5 - $9
Removed From Box but still Mint = $3 - $5
Removed From Box = $ 3 - $5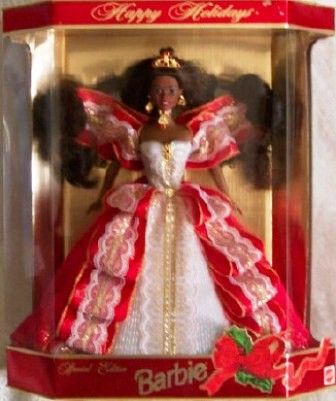 1997 Happy Holidays Barbie - AA - Gold Background (Early Release)
Mint In Box (MIB) = $25 - $30
Never Removed From Box (NRFB) = $10 - $15
Damaged Box = $5 - $9
Removed From Box but still Mint = $3 - $5
Removed From Box = $ 3 - $5
1997 Happy Holidays Barbie - Blonde (Membership Exclusive)
Mint In Box (MIB) = $25 - $40
Never Removed From Box (NRFB) = $20 - $25
Damaged Box = $15 - $20
Removed From Box but still Mint = $10 - $15
Removed From Box = $ 5 - $10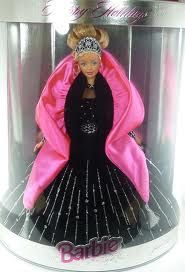 1998 Happy Holidays Barbie
Mint In Box (MIB) = $10 - $15
Never Removed From Box (NRFB) = $10 - $15
Damaged Box = $5 - $10
Removed From Box but still Mint = $3 - $5
Removed From Box = $ 3 - $5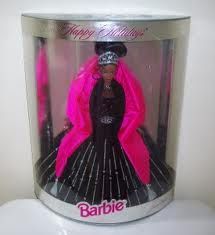 1998 Happy Holidays Barbie - African American
Mint In Box (MIB) = $10 - $15
Never Removed From Box (NRFB) = $10 - $15
Damaged Box = $5 - $10
Removed From Box but still Mint = $3 - $5
Removed From Box = $ 3 - $5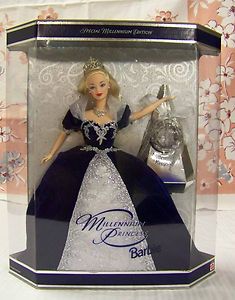 1999 Millennium Princess
Mint In Box (MIB) = $15 - $20
Never Removed From Box (NRFB) = $15 - $20
Damaged Box = $10 - $15
Removed From Box but still Mint = $5 - $10
Removed From Box = $ 5 - $10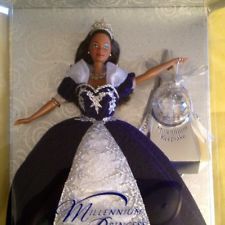 1999 Millennium Princess - African American
Mint In Box (MIB) = $15 - $20
Never Removed From Box (NRFB) = $15 - $20
Damaged Box = $10 - $15
Removed From Box but still Mint = $5 - $10
Removed From Box = $ 5 - $10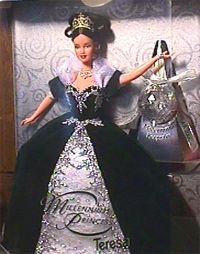 1999 Millennium Princess Teresa - Brunette (Membership Exclusive)
Mint In Box (MIB) = $20 - $25
Never Removed From Box (NRFB) = $15 - $20
Damaged Box = $10 - $15
Removed From Box but still Mint = $5 - $10
Removed From Box = $ 5 - $10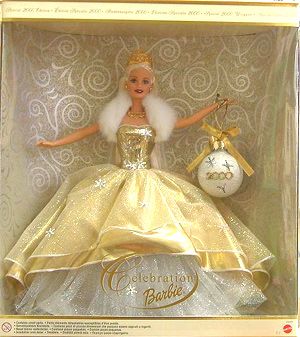 2000 Celebration Barbie
Mint In Box (MIB) = $15 - $20
Never Removed From Box (NRFB) = $10 - $15
Damaged Box = $5 - $10
Removed From Box but still Mint = $5 - $10
Removed From Box = $ 5 - $10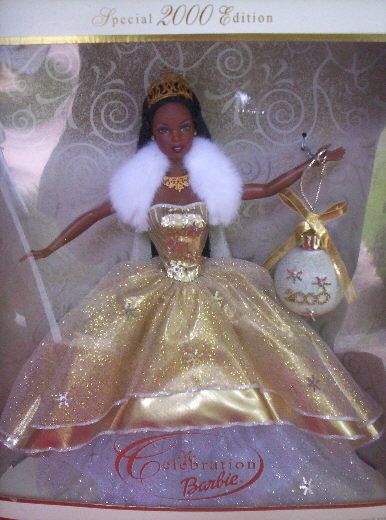 2000 Celebration Barbie - African American
Mint In Box (MIB) = $15 - $20
Never Removed From Box (NRFB) = $10 - $15
Damaged Box = $5 - $10
Removed From Box but still Mint = $5 - $10
Removed From Box = $ 5 - $10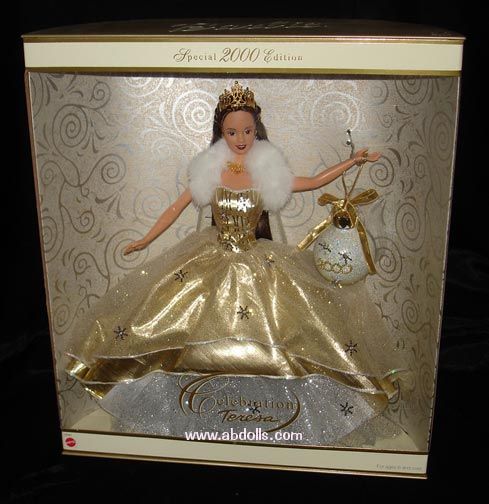 2000 Celebration Barbie Teresa - Brunette
Mint In Box (MIB) = $15 - $20
Never Removed From Box (NRFB) = $10 - $15
Damaged Box = $5 - $10
Removed From Box but still Mint = $5 - $10
Removed From Box = $ 5 - $10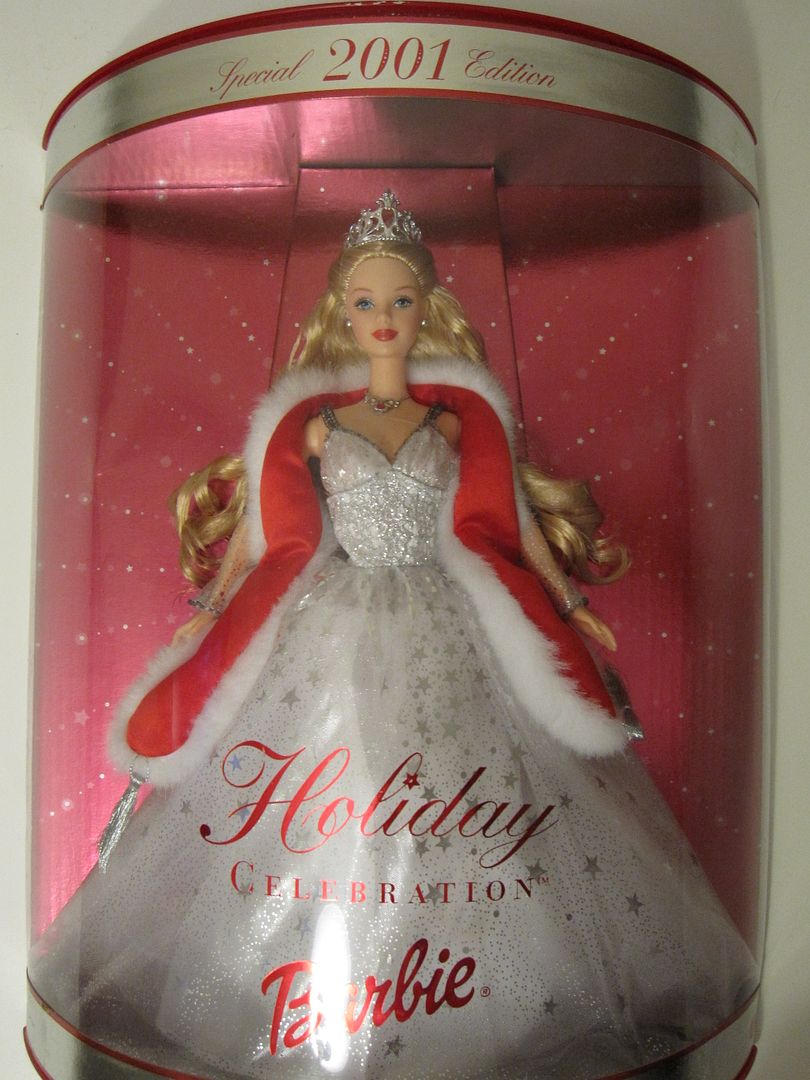 2001 Celebration Barbie

Mint In Box (MIB) = $15 - $25
Never Removed From Box (NRFB) = $10 - $15
Damaged Box = $5 - $10
Removed From Box but still Mint = $5 - $10
Removed From Box = $ 5 - $10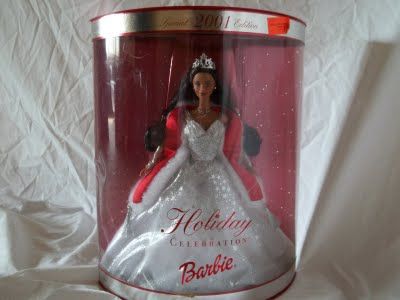 2001 Celebration Barbie - African American

Mint In Box (MIB) = $15 - $25
Never Removed From Box (NRFB) = $10 - $15
Damaged Box = $5 - $10
Removed From Box but still Mint = $5 - $10
Removed From Box = $ 5 - $10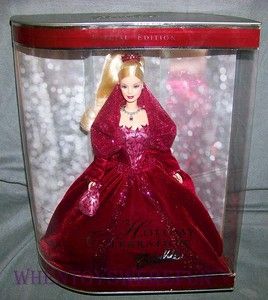 2002 Celebration Barbie

Mint In Box (MIB) = $10 - $20
Never Removed From Box (NRFB) = $10 - $15
Damaged Box = $5 - $10
Removed From Box but still Mint = $5 - $10
Removed From Box = $ 5 - $10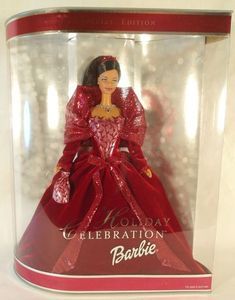 2002 Celebration Barbie - African American

Mint In Box (MIB) = $10 - $20
Never Removed From Box (NRFB) = $10 - $15
Damaged Box = $5 - $10
Removed From Box but still Mint = $5 - $10
Removed From Box = $ 5 - $10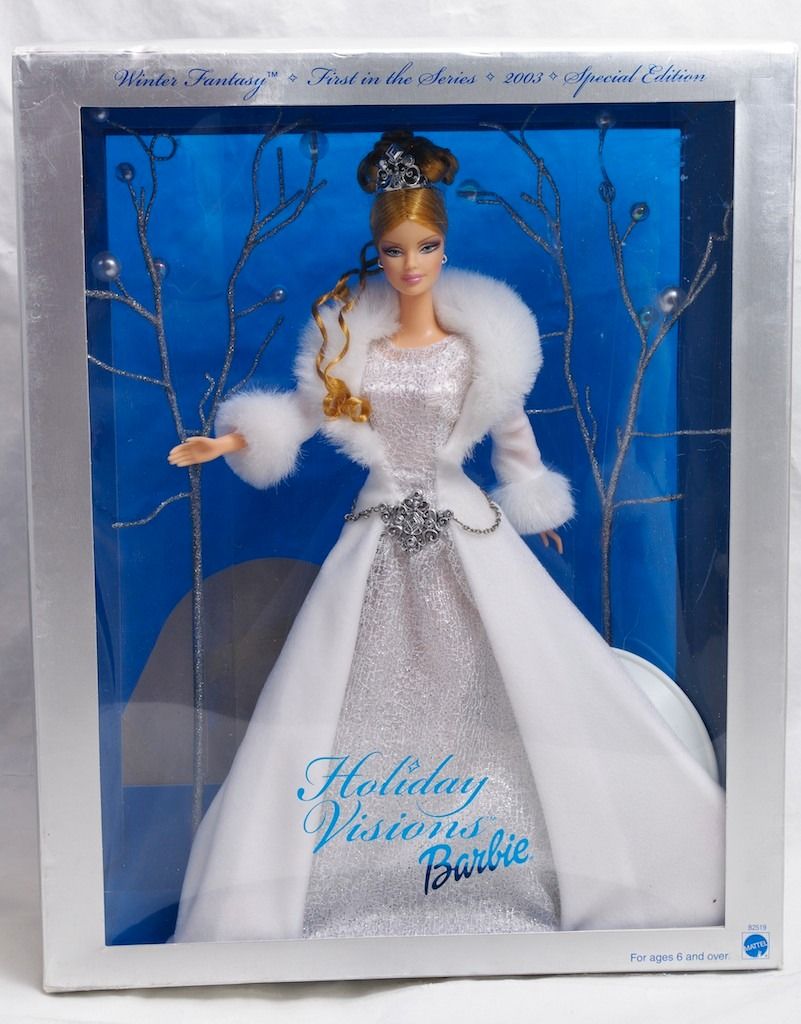 2003 Holiday Visions - Winter Fantasy

Mint In Box (MIB) = $15 - $20
Never Removed From Box (NRFB) = $15 - $20
Damaged Box = $10 - $15
Removed From Box but still Mint = $5 - $10
Removed From Box = $ 5 - $10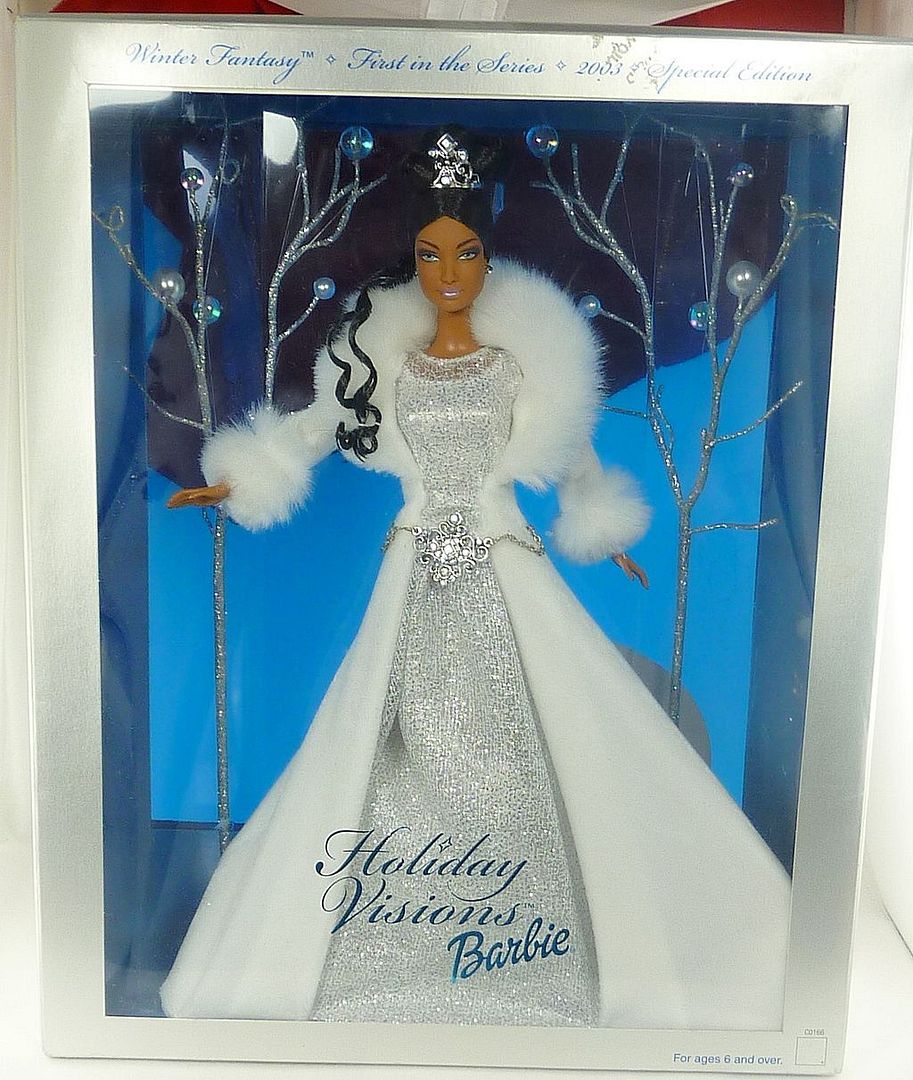 2003 Holiday Visions - Winter Fantasy - African American

Mint In Box (MIB) = $15 - $20
Never Removed From Box (NRFB) = $15 - $20
Damaged Box = $10 - $15
Removed From Box but still Mint = $5 - $10
Removed From Box = $ 5 - $10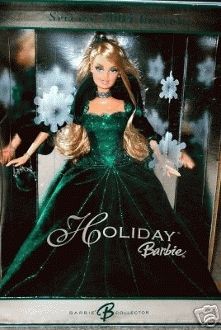 2004 Holiday Barbie

Mint In Box (MIB) = $20 - $30
Never Removed From Box (NRFB) = $20 - $30
Damaged Box = $10 - $15
Removed From Box but still Mint = $5 - $10
Removed From Box = $ 5 - $10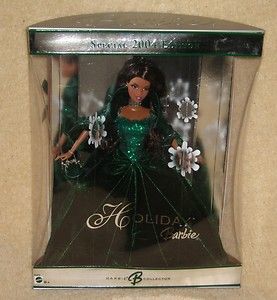 2004 Holiday Barbie - African American

Mint In Box (MIB) = $20 - $30
Never Removed From Box (NRFB) = $20 - $30
Damaged Box = $10 - $15
Removed From Box but still Mint = $5 - $10
Removed From Box = $ 5 - $10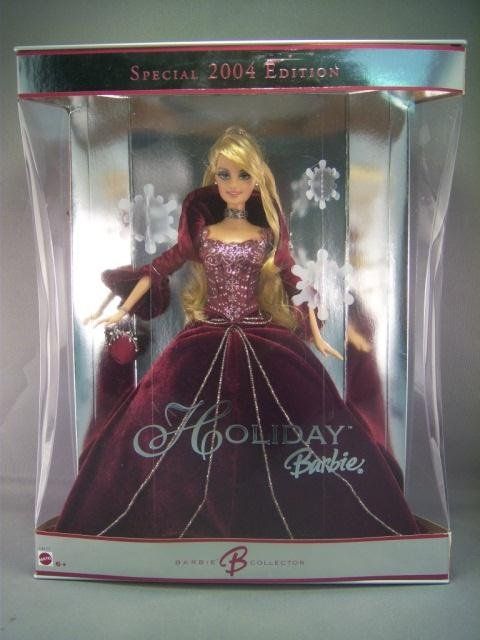 2004 Holiday Barbie - Exclusive Rose Colored Dress

Mint In Box (MIB) = $30 - $45
Never Removed From Box (NRFB) = $30 - $40
Damaged Box = $15 - $25
Removed From Box but still Mint = $10 - $15
Removed From Box = $ 5 - $10
2004 Holiday Barbie - African American - Exclusive Rose Colored Dress

Mint In Box (MIB) = $30 - $45
Never Removed From Box (NRFB) = $30 - $40
Damaged Box = $15 - $25
Removed From Box but still Mint = $10 - $15
Removed From Box = $ 5 - $10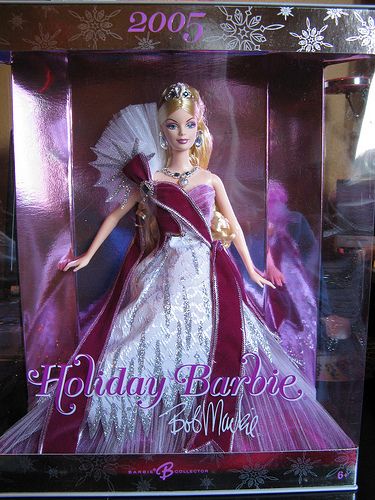 2005 Holiday Barbie

Mint In Box (MIB) = $15 - $25
Never Removed From Box (NRFB) = $15 - $25
Damaged Box = $10 - $15
Removed From Box but still Mint = $5 - $10
Removed From Box = $ 5 - $10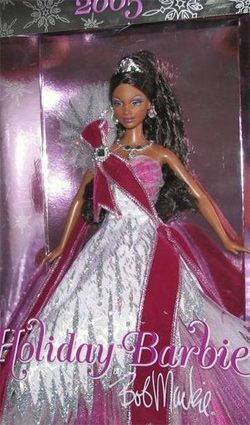 2005 Holiday Barbie - African American

Mint In Box (MIB) = $15 - $25
Never Removed From Box (NRFB) = $15 - $25
Damaged Box = $10 - $15
Removed From Box but still Mint = $5 - $10
Removed From Box = $ 5 - $10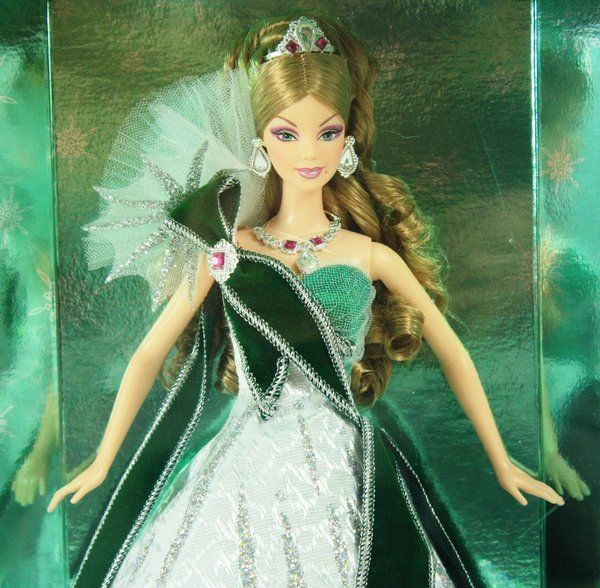 2005 Holiday Barbie - Exclusive Green Colored Dress

Mint In Box (MIB) = $25 - $35
Never Removed From Box (NRFB) = $20 - $30
Damaged Box = $15 - $20
Removed From Box but still Mint = $10 - $15
Removed From Box = $ 5 - $10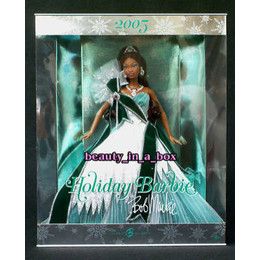 2005 Holiday Barbie AA Exclusive Green Colored Dress

Mint In Box (MIB) = $25 - $35
Never Removed From Box (NRFB) = $20 - $30
Damaged Box = $15 - $20
Removed From Box but still Mint = $10 - $15
Removed From Box = $ 5 - $10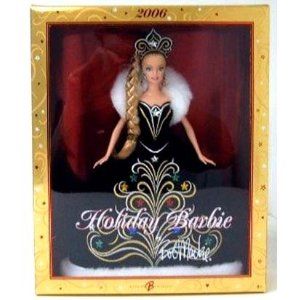 2006 Holiday Barbie

Mint In Box (MIB) = $25 - $35
Never Removed From Box (NRFB) = $25 - $35
Damaged Box = $15 - $20
Removed From Box but still Mint = $10 - $15
Removed From Box = $ 5 - $10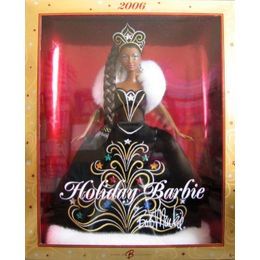 2006 Holiday Barbie - African American

Mint In Box (MIB) = $25 - $35
Never Removed From Box (NRFB) = $25 - $35
Damaged Box = $15 - $20
Removed From Box but still Mint = $10 - $15
Removed From Box = $ 5 - $10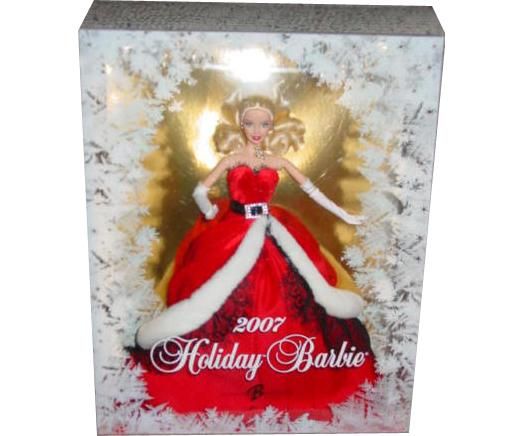 2007 Holiday Barbie

Mint In Box (MIB) = $15 - $25
Never Removed From Box (NRFB) = $15 - $25
Damaged Box = $10 - $15
Removed From Box but still Mint = $5 - $10
Removed From Box = $ 5 - $10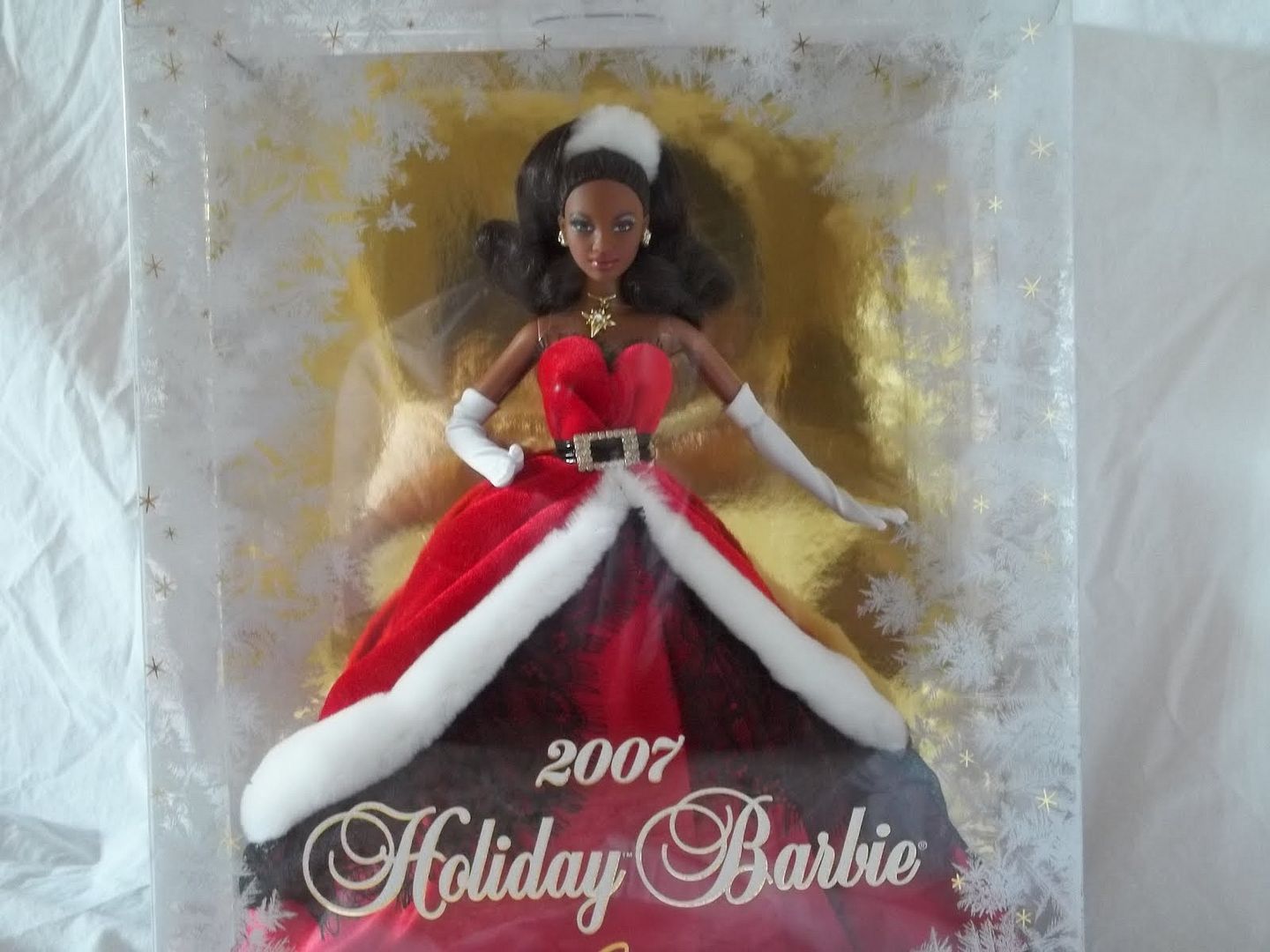 2007 Holiday Barbie - African American

Mint In Box (MIB) = $15 - $25
Never Removed From Box (NRFB) = $15 - $25
Damaged Box = $10 - $15
Removed From Box but still Mint = $5 - $10
Removed From Box = $ 5 - $10
2008 Holiday Barbie

Mint In Box (MIB) = $35 - $45
Never Removed From Box (NRFB) = $30 - $35
Damaged Box = $15 - $20
Removed From Box but still Mint = $10 - $15
Removed From Box = $ 5 - $10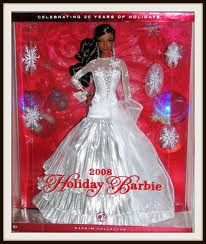 2008 Holiday Barbie - African American

Mint In Box (MIB) = $35 - $45
Never Removed From Box (NRFB) = $30 - $35
Damaged Box = $15 - $20
Removed From Box but still Mint = $10 - $15
Removed From Box = $ 5 - $10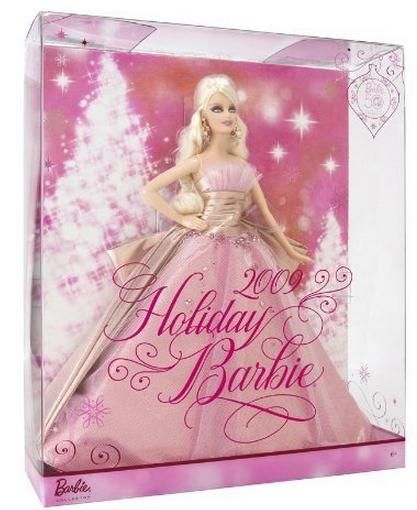 2009 Holiday Barbie (50th Anniversary)

Mint In Box (MIB) = $40 - $50
Never Removed From Box (NRFB) = $35 - $40
Damaged Box = $20 - $25
Removed From Box but still Mint = $10 - $15
Removed From Box = $5 - $10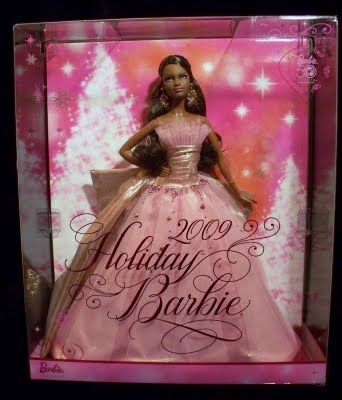 2009 Holiday Barbie (50th Anniversary) - African American

Mint In Box (MIB) = $40 - $50
Never Removed From Box (NRFB) = $35 - $40
Damaged Box = $20 - $25
Removed From Box but still Mint = $10 - $15
Removed From Box = $5 - $10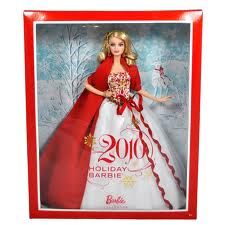 2010 Holiday Barbie

Mint In Box (MIB) = $25 - $35
Never Removed From Box (NRFB) = $25- $30
Damaged Box = $15 - $20
Removed From Box but still Mint = $5 - $15
Removed From Box = $ 5 - $10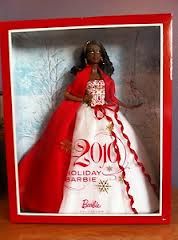 2010 Holiday Barbie - African American

Mint In Box (MIB) = $25 - $35
Never Removed From Box (NRFB) = $25- $30
Damaged Box = $15 - $20
Removed From Box but still Mint = $5 - $15
Removed From Box = $ 5 - $10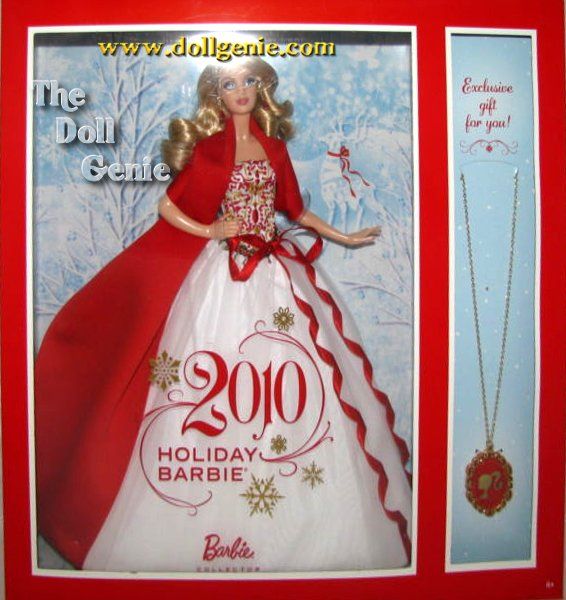 2010 Holiday Barbie with Exclusive Necklace

Mint In Box (MIB) = $40 - $50
Never Removed From Box (NRFB) = $30- $35
Damaged Box = $10 - $15
Removed From Box but still Mint = $5 - $10
Removed From Box = $ 5 - $10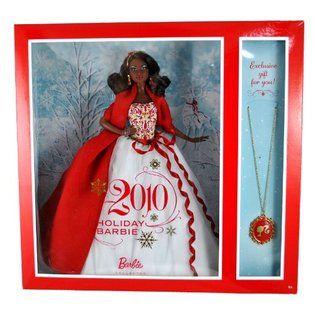 2010 Holiday Barbie - African American with Exclusive Necklace

Mint In Box (MIB) = $40 - $50
Never Removed From Box (NRFB) = $30- $35
Damaged Box = $10 - $15
Removed From Box but still Mint = $5 - $10
Removed From Box = $ 5 - $10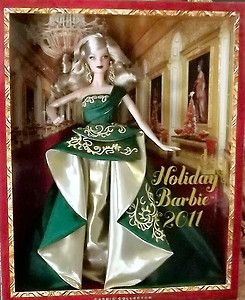 2011 Holiday Barbie

Mint In Box (MIB) = $20 - $30
Never Removed From Box (NRFB) = $20- $25
Damaged Box = $15 - $20
Removed From Box but still Mint = $10 - $15
Removed From Box = $ 5 - $10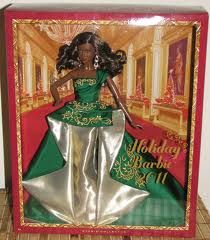 2011 Holiday Barbie - African American

Mint In Box (MIB) = $20 - $30
Never Removed From Box (NRFB) = $20- $25
Damaged Box = $15 - $20
Removed From Box but still Mint = $10 - $15
Removed From Box = $ 5 - $10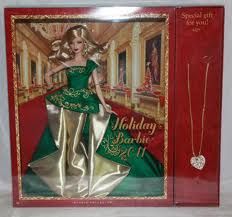 2011 Holiday Barbie - with Exclusive Necklace

Mint In Box (MIB) = $40 - $50
Never Removed From Box (NRFB) = $25- $35
Damaged Box = $15 - $20
Removed From Box but still Mint = $10 - $15
Removed From Box = $ 5 - $10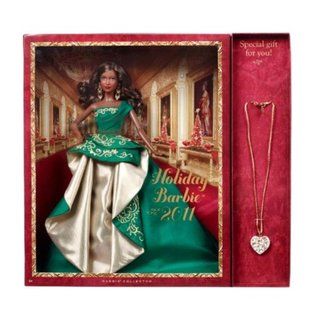 2011 Holiday Barbie - African American with Exclusive Necklace

Mint In Box (MIB) = $40 - $50
Never Removed From Box (NRFB) = $25- $35
Damaged Box = $15 - $20
Removed From Box but still Mint = $10 - $15
Removed From Box = $ 5 - $10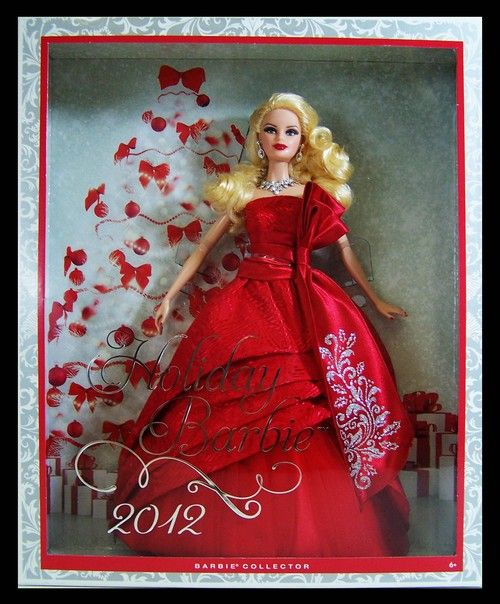 2012 Holiday Barbie

Mint In Box (MIB) = $20 - $35
Never Removed From Box (NRFB) = $20- $35
Damaged Box = $10 - $20
Removed From Box but still Mint = $5 - $10
Removed From Box = $5 - $10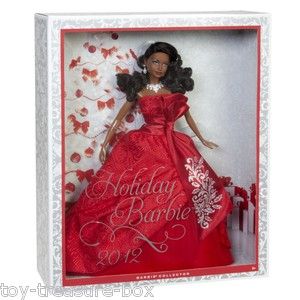 2012 Holiday Barbie - African American

Mint In Box (MIB) = $20 - $35
Never Removed From Box (NRFB) = $20- $35
Damaged Box = $10 - $20
Removed From Box but still Mint = $5 - $10
Removed From Box = $ 5 - $10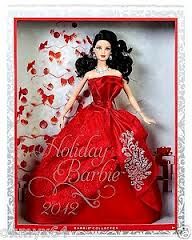 2012 Holiday Barbie Teresa - K-Mart Exclusive Brunet

Mint In Box (MIB) = $30 - $50
Never Removed From Box (NRFB) = $30 - $50
Damaged Box = $20 - $30
Removed From Box but still Mint = $10 - $15
Removed From Box = $ 5 - $10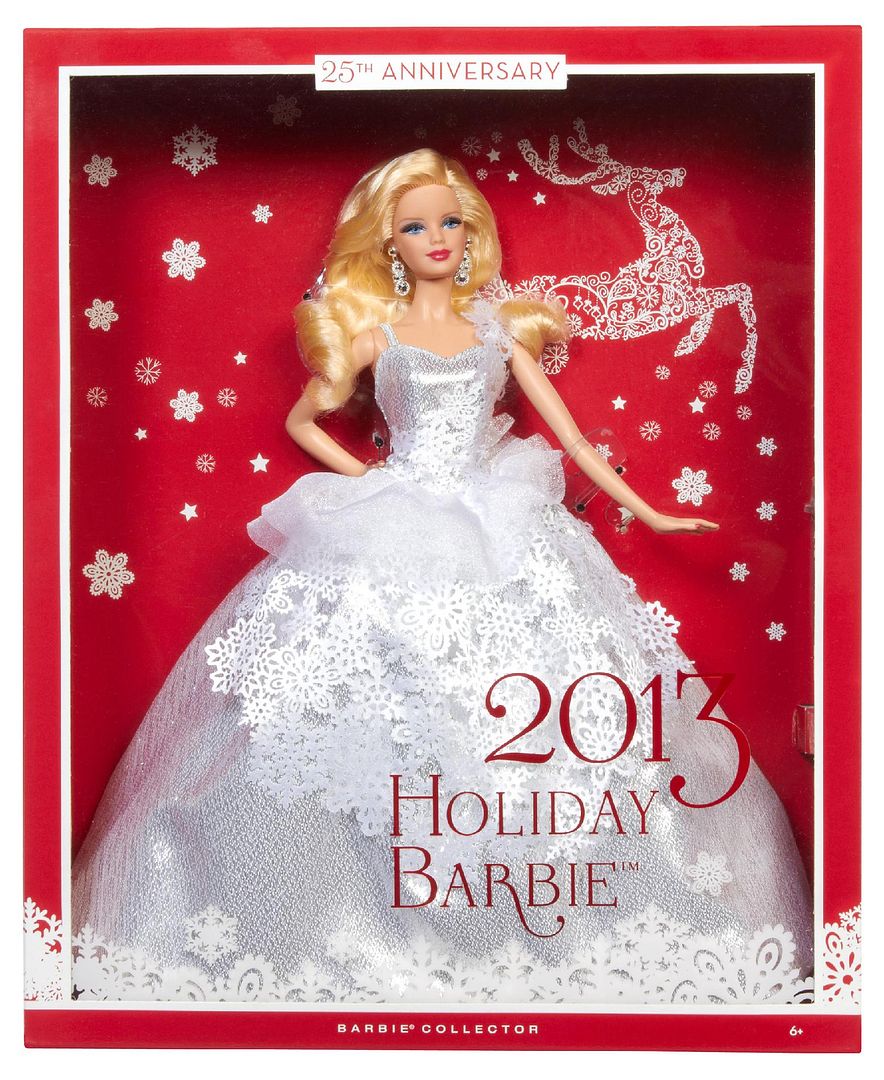 2013 Holiday Barbie

Mint In Box (MIB) = $25 - $30
Never Removed From Box (NRFB) = $25 - $30
Damaged Box = $10 - $15
Removed From Box but still Mint = $5 - $10
Removed From Box = $ 5 - $6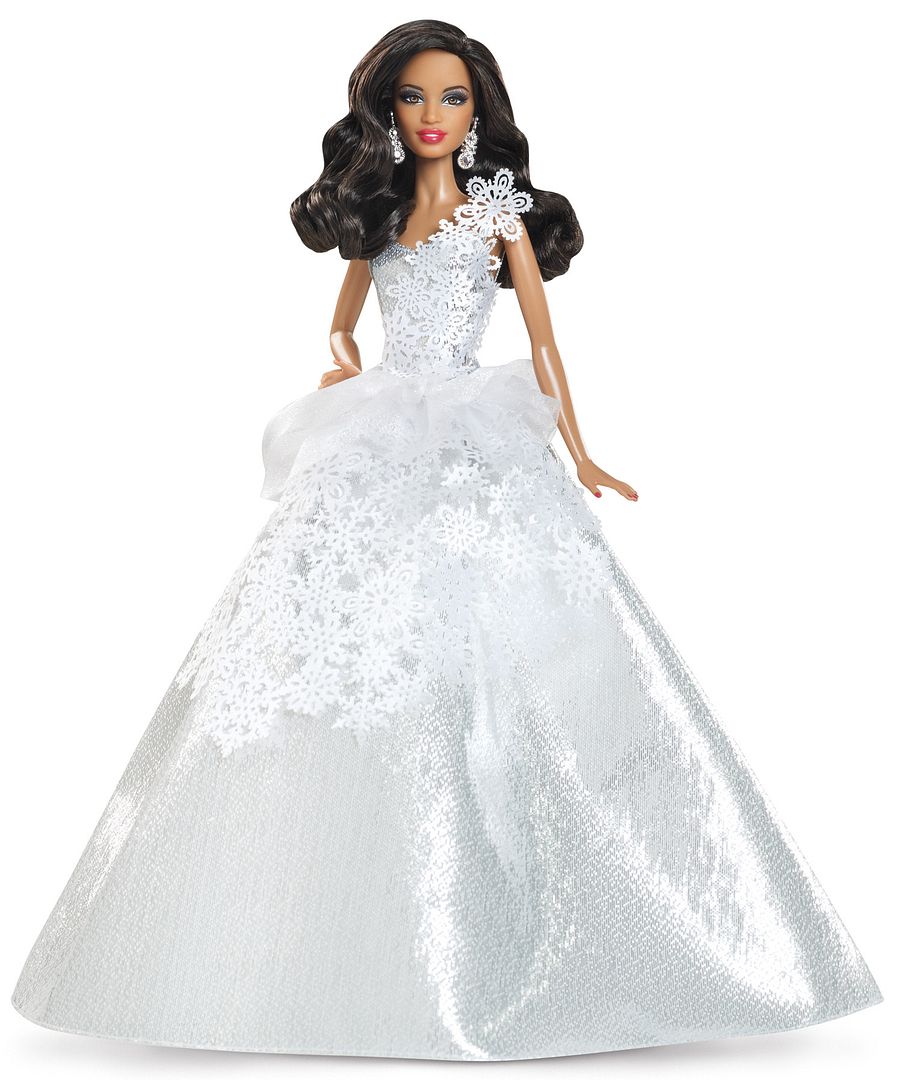 2013 Holiday Barbie - African American (AA)

Mint In Box (MIB) = $25 - $30
Never Removed From Box (NRFB) =$25 - $30
Damaged Box = $10 - $15
Removed From Box but still Mint =$5 - $10
Removed From Box = $ 5 - $6
2013 Holiday Barbie - Auburn - K-Mart Exclusive

Mint In Box (MIB) = $40 - $50
Never Removed From Box (NRFB) =$35 - $45
Damaged Box = $25 - $30
Removed From Box but still Mint =$10 - $25
Removed From Box = $ 5 - $10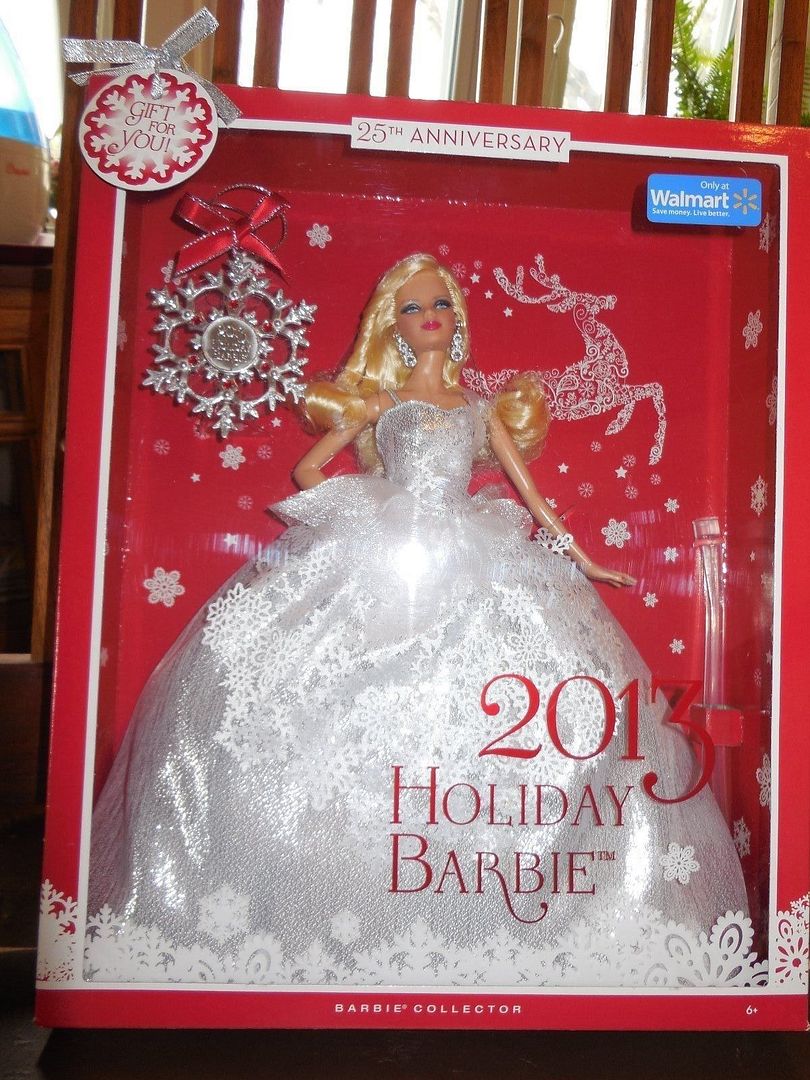 2013 Holiday Barbie - WalMart Exclusive Ornament

Mint In Box (MIB) = $45 - $60
Never Removed From Box (NRFB) = $45 - $60
Damaged Box = $25 - $30
Removed From Box but still Mint = $5 - $10
Removed From Box = $ 5 - $6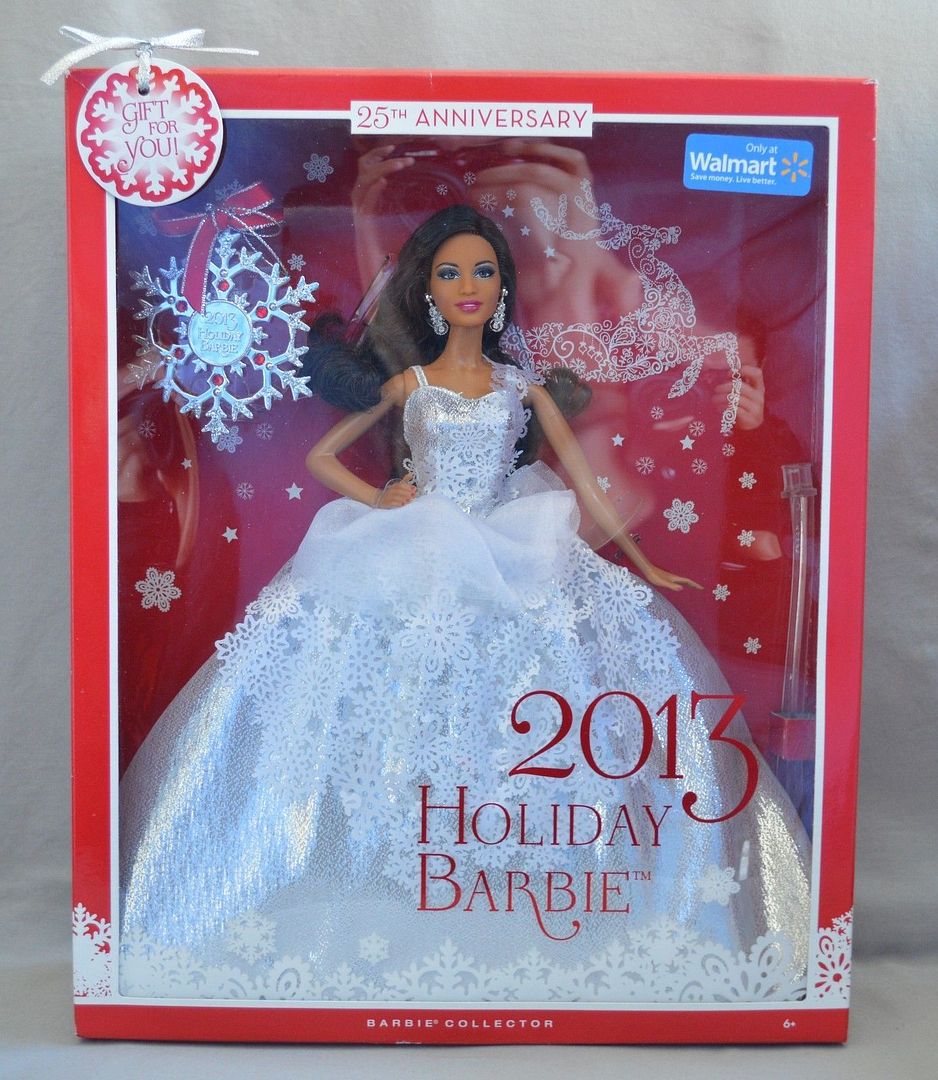 2013 Holiday Barbie - African American -WalMart Exclusive (AA)

Mint In Box (MIB) = $45 - $60
Never Removed From Box (NRFB) =$45 - $60
Damaged Box = $25 - $30
Removed From Box but still Mint =$5 - $10
Removed From Box = $ 5 - $6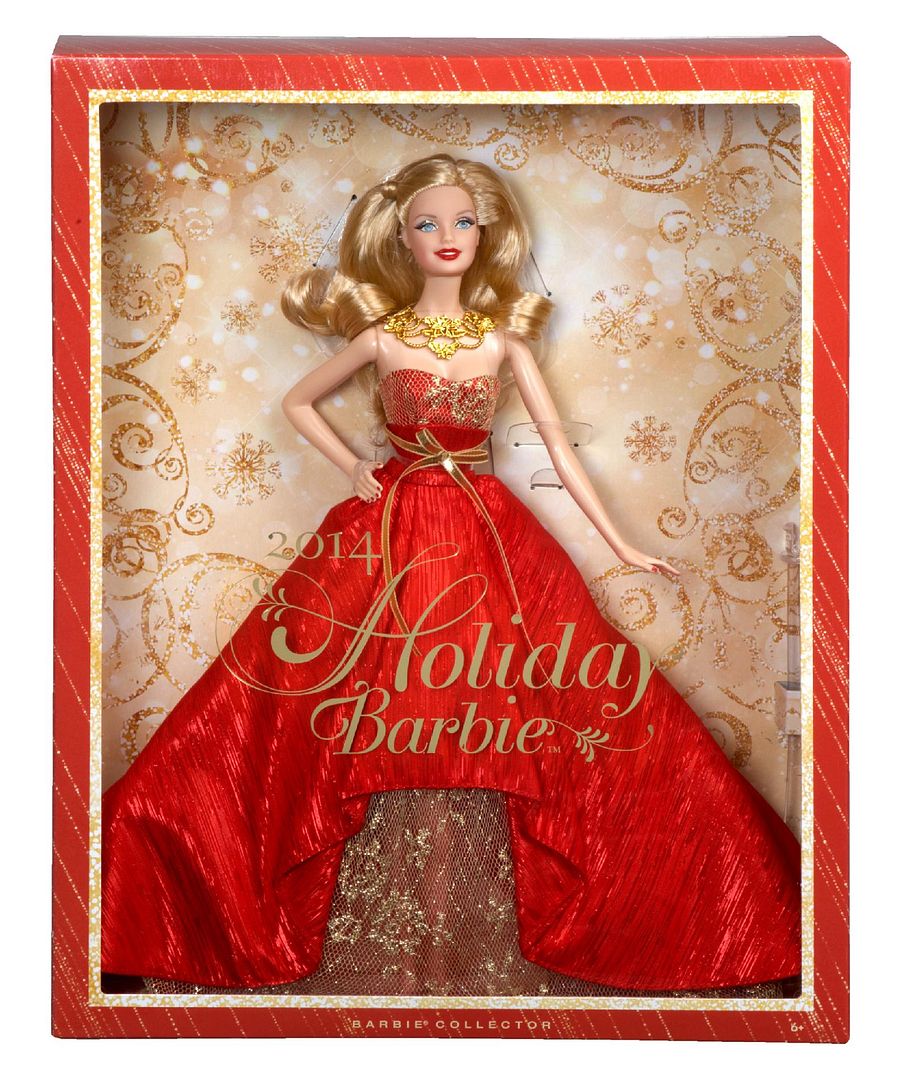 2014 Holiday Barbie

Mint In Box (MIB) = $20 - $30
Never Removed From Box (NRFB) = $20- $30
Damaged Box = $10 - $20
Removed From Box but still Mint = $5 - $10
Removed From Box = $ 5 - $6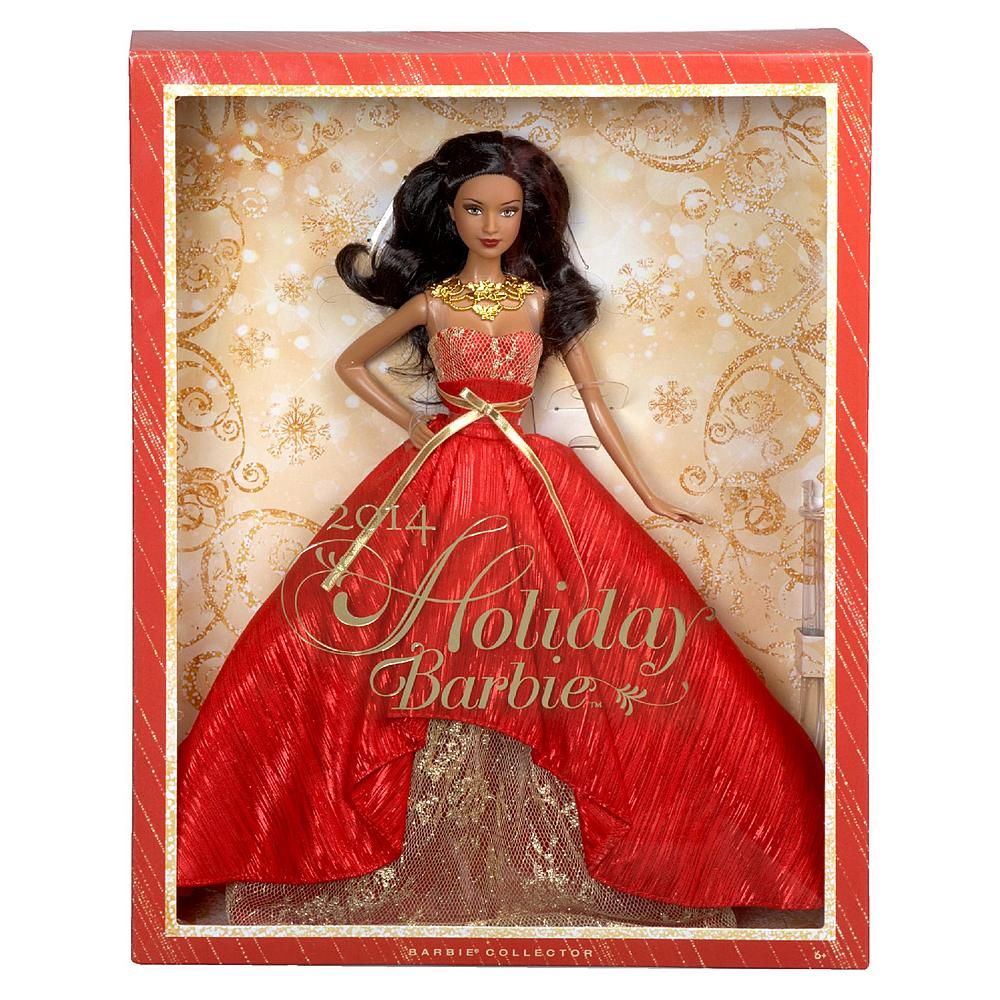 2014 Holiday Barbie - African American (AA)

Mint In Box (MIB) = $20 - $30
Never Removed From Box (NRFB) =$20- $30
Damaged Box = $10 - $20
Removed From Box but still Mint =$5 - $10
Removed From Box = $ 5 - $6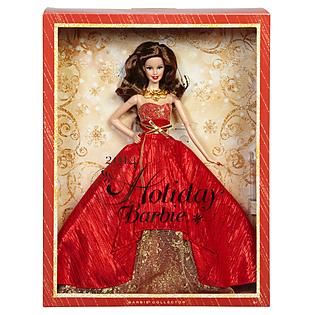 2014 Holiday Barbie - Brunette - K-Mart Exclusive

Mint In Box (MIB) = $40 - $50
Never Removed From Box (NRFB) =$40- $50
Damaged Box = $25 - $40
Removed From Box but still Mint =$10 - $15
Removed From Box = $ 5 - $10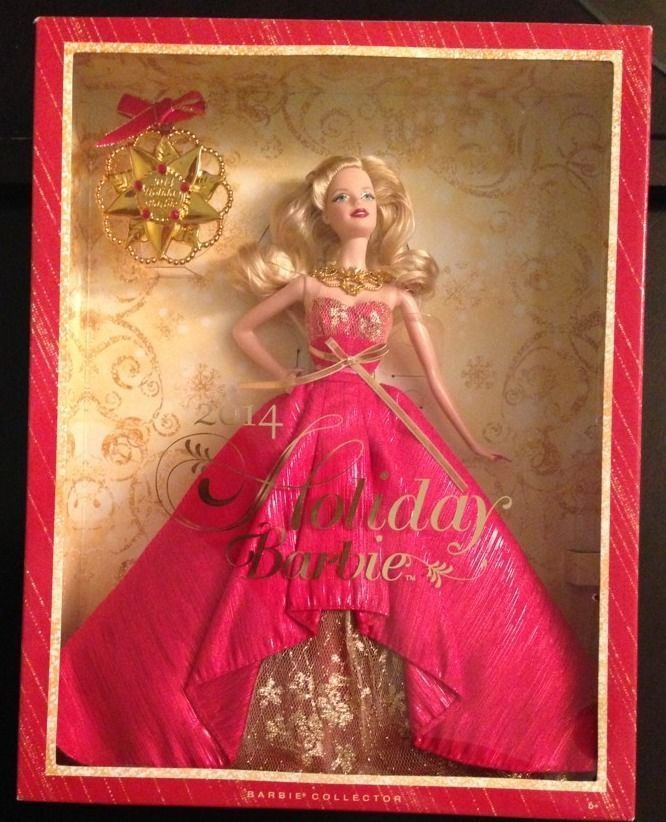 2014 Holiday Barbie - WalMart Exclusive Ornament

Mint In Box (MIB) = $20 - $30
Never Removed From Box (NRFB) = $20- $30
Damaged Box = $10 - $20
Removed From Box but still Mint = $5 - $10
Removed From Box = $ 5 - $6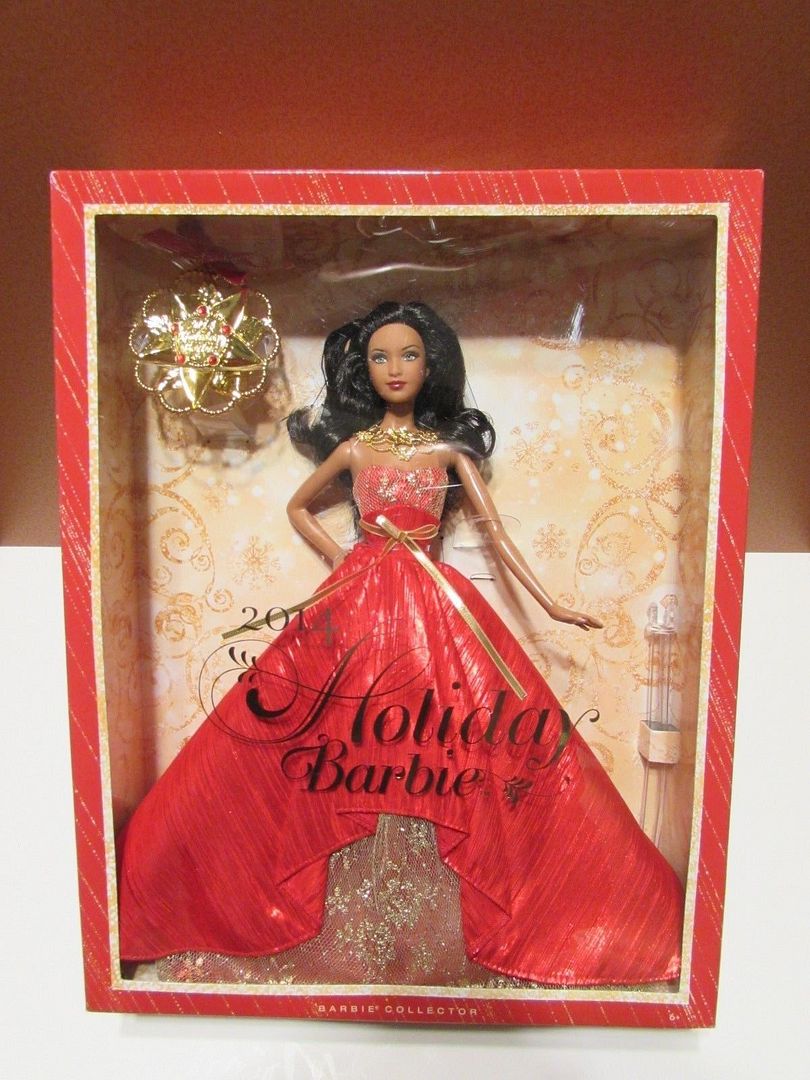 2014 Holiday Barbie - African American (AA)
- WalMart Exclusive Ornament
Mint In Box (MIB) = $20 - $30
Never Removed From Box (NRFB) =$20- $30
Damaged Box = $10 - $20
Removed From Box but still Mint =$5 - $10
Removed From Box = $ 5 - $6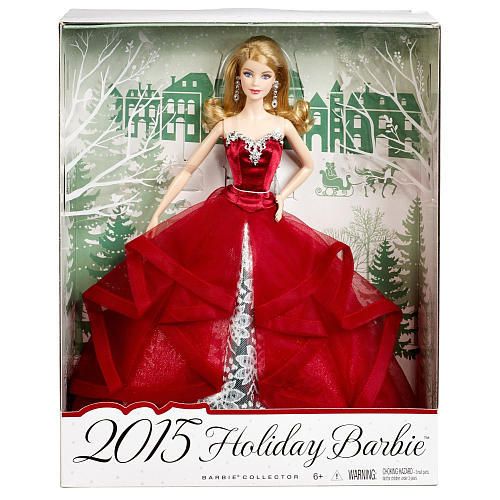 2015 Holiday Barbie
Mint In Box (MIB) = $20 - $35
Never Removed From Box (NRFB) =$20- $30
Damaged Box = $10 - $20
Removed From Box but still Mint =$5 - $10
Removed From Box = $ 5 - $6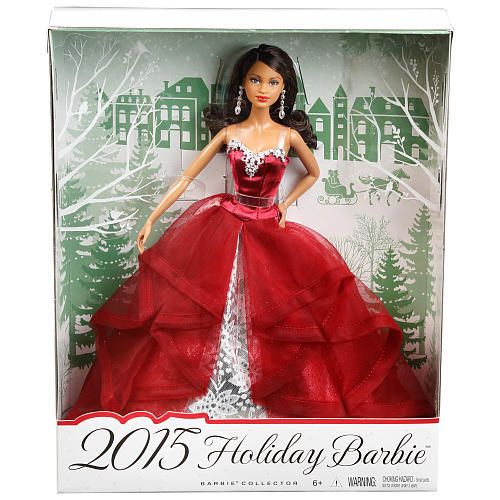 2015 Holiday Barbie - African American (AA)
Mint In Box (MIB) = $20 - $35
Never Removed From Box (NRFB) =$20- $30
Damaged Box = $10 - $20
Removed From Box but still Mint =$5 - $10
Removed From Box = $ 5 - $6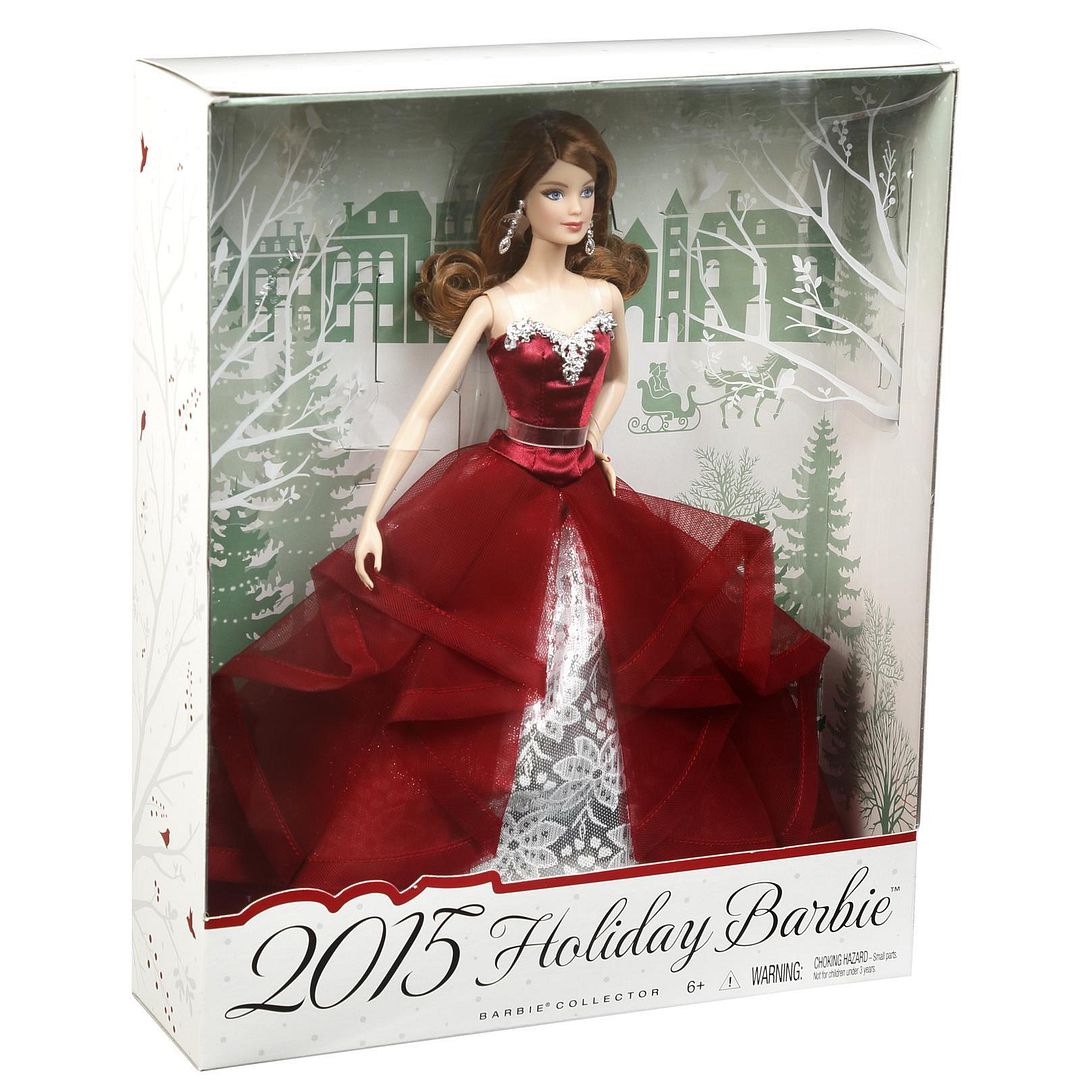 2015 Holiday Barbie - Auburn - K-Mart Exclusive
Mint In Box (MIB) = $30 - $50
Never Removed From Box (NRFB) =$30- $50
Damaged Box = $10 - $20
Removed From Box but still Mint =$5 - $10
Removed From Box = $ 5 - $6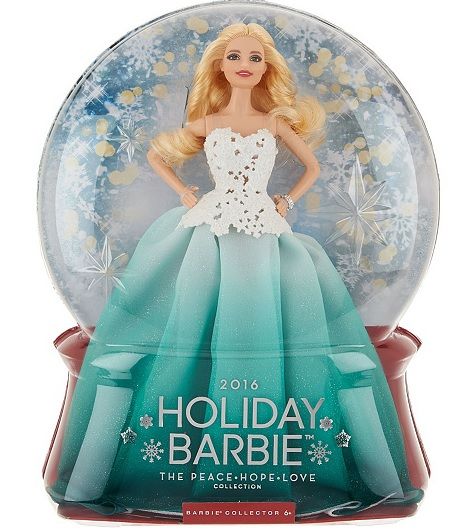 2016 Holiday Barbie
Mint In Box (MIB) = $40 - $55
Never Removed From Box (NRFB) =$20- $30
Damaged Box = $10 - $20
Removed From Box but still Mint =$5 - $10
Removed From Box = $ 5 - $6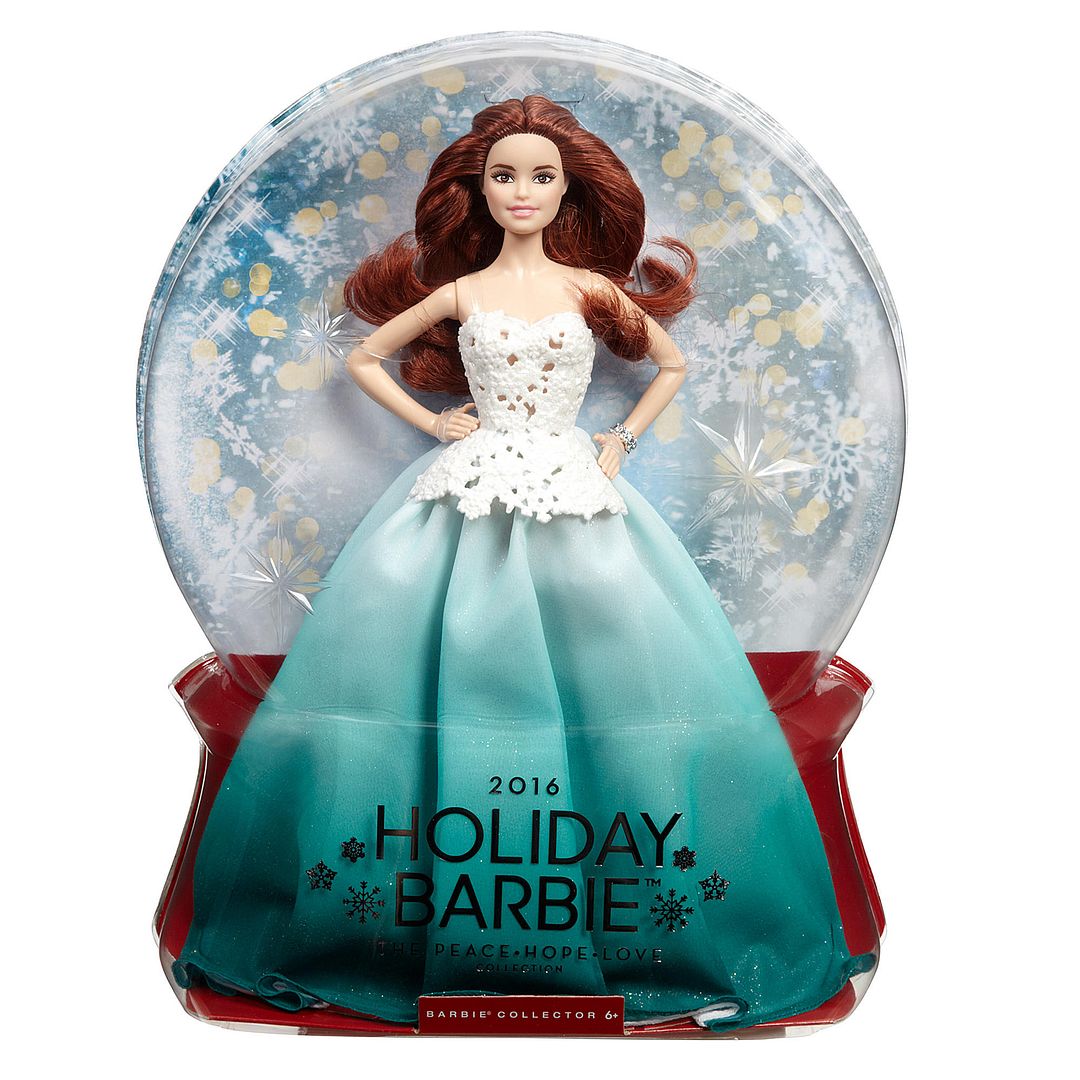 2016 Holiday Barbie - Auburn - K-Mart Exclusive
Mint In Box (MIB) = $45 - $65
Never Removed From Box (NRFB) =$30- $50
Damaged Box = $10 - $20
Removed From Box but still Mint =$5 - $10
Removed From Box = $ 5 - $6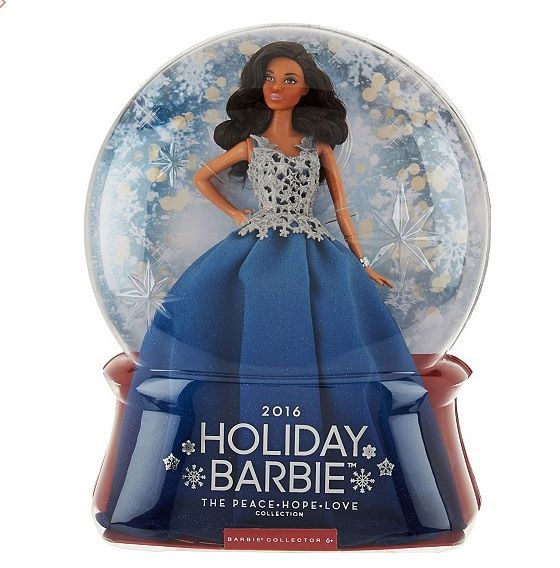 2016 Holiday Barbie - African American (AA)
Mint In Box (MIB) = $40 - $55
Never Removed From Box (NRFB) =$20- $30
Damaged Box = $10 - $20
Removed From Box but still Mint =$5 - $10
Removed From Box = $ 5 - $6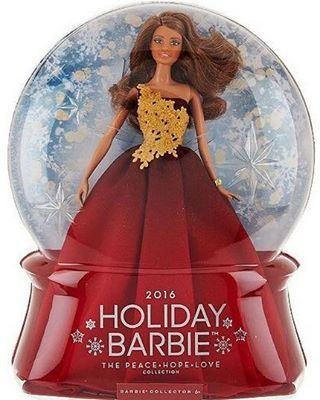 2016 Holiday Barbie - Latina
Mint In Box (MIB) = $40 - $55
Never Removed From Box (NRFB) =$20- $30
Damaged Box = $10 - $20
Removed From Box but still Mint =$5 - $10
Removed From Box = $ 5 - $6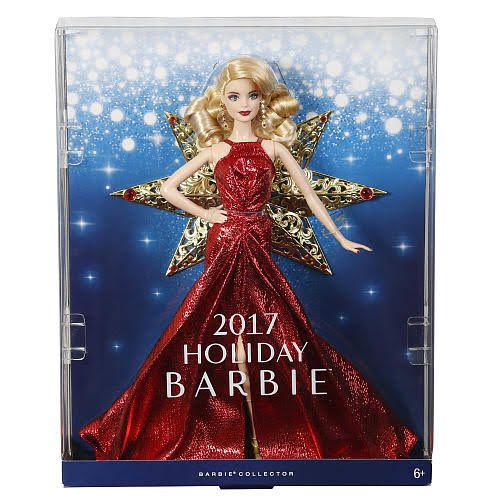 2017 Holiday Barbie
Mint In Box (MIB) = $40 - $55
Never Removed From Box (NRFB) =$20- $30
Damaged Box = $10 - $20
Removed From Box but still Mint =$5 - $10
Removed From Box = $ 5 - $6
2017 Holiday Barbie - African American (AA)
Mint In Box (MIB) = $40 - $55
Never Removed From Box (NRFB) =$20- $30
Damaged Box = $10 - $20
Removed From Box but still Mint =$5 - $10
Removed From Box = $ 5 - $6
2017 Holiday Barbie - Latina
Mint In Box (MIB) = $40 - $55
Never Removed From Box (NRFB) =$20- $30
Damaged Box = $10 - $20
Removed From Box but still Mint =$5 - $10
Removed From Box = $ 5 - $6
2018 Holiday Barbie
Mint In Box (MIB) = $40 - $55
Never Removed From Box (NRFB) =$20- $30
Damaged Box = $10 - $20
Removed From Box but still Mint =$5 - $10
Removed From Box = $ 5 - $6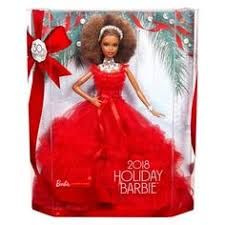 2018 Holiday Barbie - African American (AA)
Mint In Box (MIB) = $40 - $55
Never Removed From Box (NRFB) =$20- $30
Damaged Box = $10 - $20
Removed From Box but still Mint =$5 - $10
Removed From Box = $ 5 - $6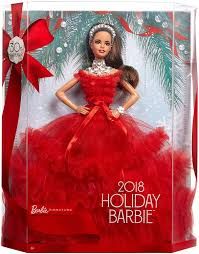 2018 Holiday Barbie - Teresa
Mint In Box (MIB) = $40 - $55
Never Removed From Box (NRFB) =$20- $30
Damaged Box = $10 - $20
Removed From Box but still Mint =$5 - $10
Removed From Box = $ 5 - $6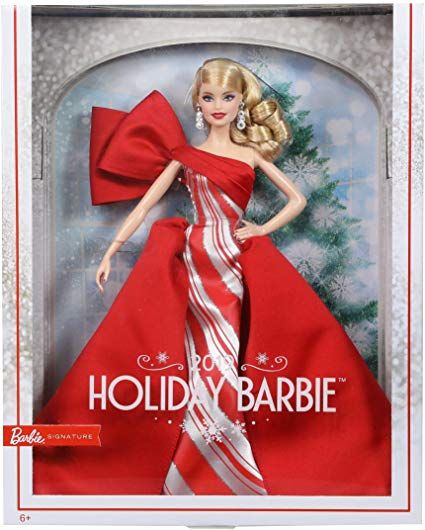 2019 Holiday Barbie
Mint In Box (MIB) = $40 - $55
Never Removed From Box (NRFB) =$20- $30
Damaged Box = $10 - $20
Removed From Box but still Mint =$5 - $10
Removed From Box = $ 5 - $6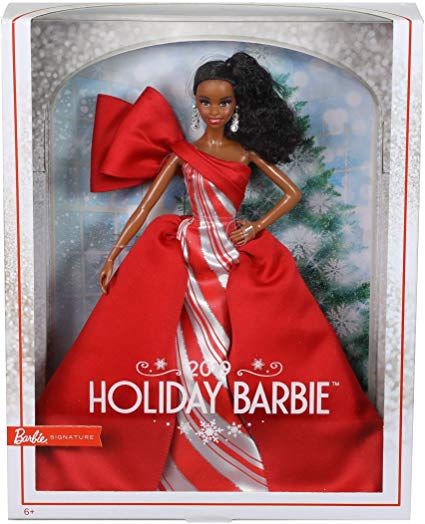 2019 Holiday Barbie - African American (AA)
Mint In Box (MIB) = $40 - $55
Never Removed From Box (NRFB) =$20- $30
Damaged Box = $10 - $20
Removed From Box but still Mint =$5 - $10
Removed From Box = $ 5 - $6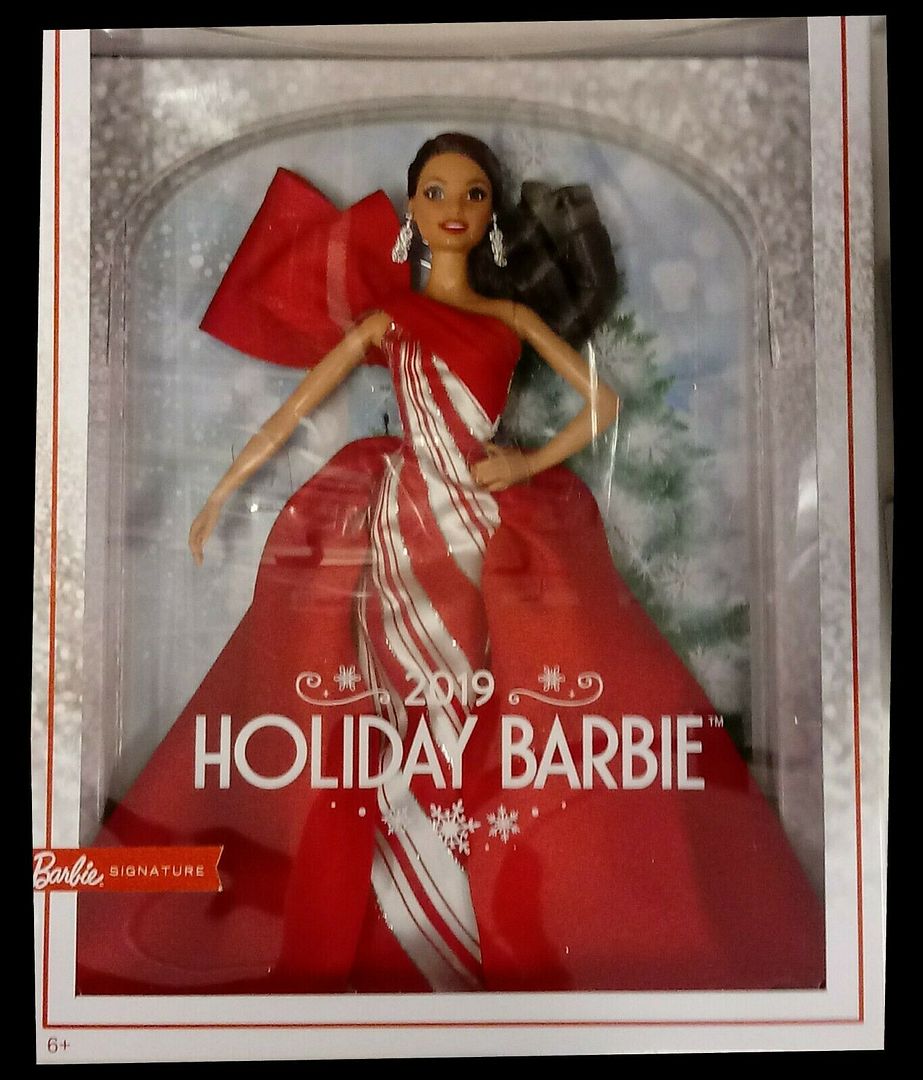 2019 Holiday Barbie - Teresa
Mint In Box (MIB) = $40 - $55
Never Removed From Box (NRFB) =$20- $30
Damaged Box = $10 - $20
Removed From Box but still Mint =$5 - $10
Removed From Box = $ 5 - $6
Mint In Box (MIB) = $40 - $55
Never Removed From Box (NRFB) =$20- $30
Damaged Box = $10 - $20
Removed From Box but still Mint =$5 - $10
Removed From Box = $ 5 - $6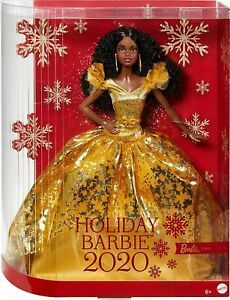 2020 Holiday Barbie - African American (AA)


Mint In Box (MIB) = $40 - $55
Never Removed From Box (NRFB) =$20- $30
Damaged Box = $10 - $20
Removed From Box but still Mint =$5 - $10
Removed From Box = $ 5 - $6