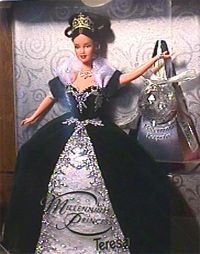 Starting in 1999, the Happy Holidays Barbie line changed into the 'Millennium Princess'. It was only for this year though to celebrate the new century to come.
This is also the year the first 'Teresa' edition was added to the Holiday Barbie collection. There were many brunettes but they were still considered 'Barbie'. The best way to explain it is, Barbie had her hair dyed for a few years and then went back to Blonde. Teresa, in the collection, is 'Barbie's Best Friend'. She has her own standard look that sets her apart from the normal Barbie line.
On top of the brunette hair, this edition was dressed in an evergreen dress with silver inlay whereas the original Blonde Barbie is dressed in a velvet blue dress.
This version also comes with a Christmas ornament that can be hung on your own home Christmas tree.