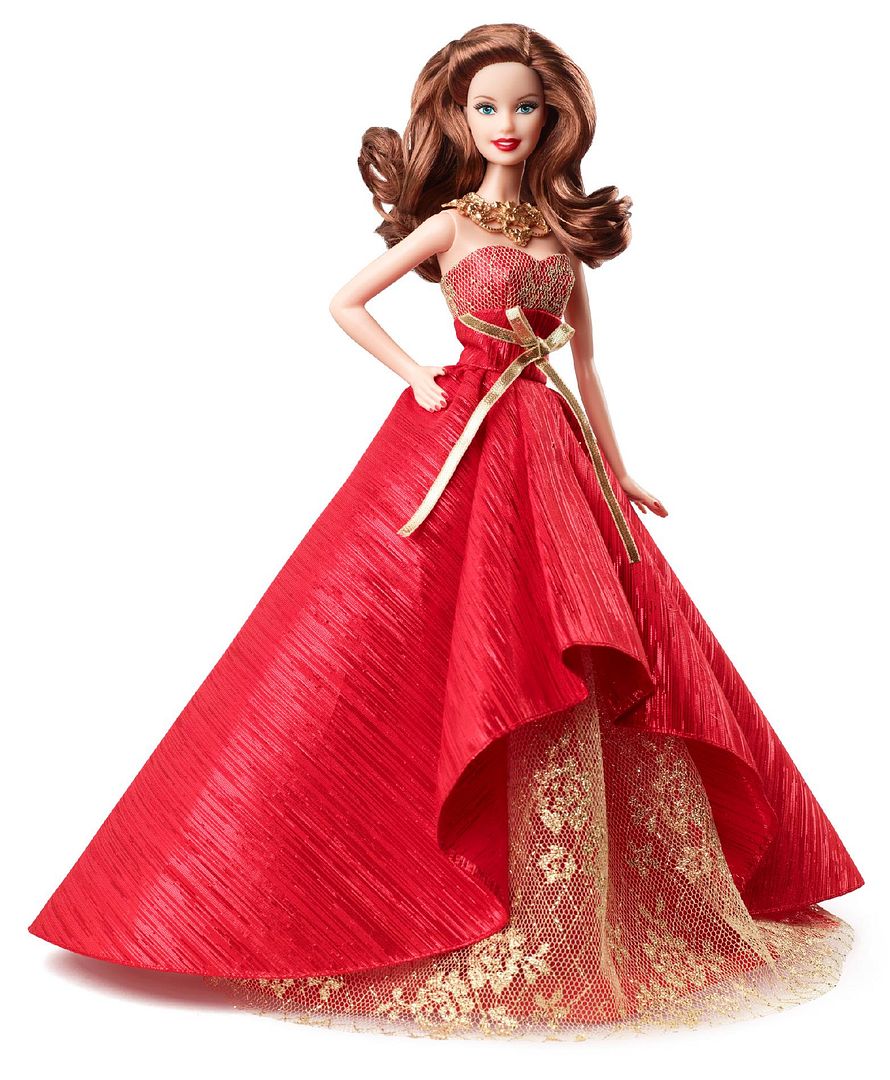 Hello again! I apologize for the long delay between posts but my newborn son came into the world the beginning of August and as you can imagine, I've been very preoccupied juggling school starting with my older two children and taking care of my newborn son.
But, I am back and wanted to let everyone know about the new 2014 Holiday Barbie that was released!
Like 2013, this one has an Exclusive release with it that can only be found at K-Mart.
There have been years where the exclusive released to Wal-Mart and Toys R Us, but K-Mart has been winning the bid on the exclusive almost 90% of the time.
The Exclusive is a beautiful Brunette release, pictured here. Only recently has it showed up on their website however so if you're looking to grab a 2014 for your collection, I'd advise grabbing the Brunette first before the Blonde or African American version as it'll be the first one to disappear off the shelves as history has shown us!
However, getting back to the 2014 Holiday Barbie outfit, one of the things that pops out to me first is all the gold flare added to her outfit, as well as the box display as well.
There have been Holiday Barbies in the past that have had a small amount of gold added to their outfit, but this one shows off just as much Gold as it does Red, giving the whole thing an overall warm glow to her that is a welcomed change this Holiday Season :)
I'll be updating her into the Value Price Guide along with her Blonde and African American versions as well and will be grabbing her myself and adding her to the collection. Very excited that Matell is continuing to add more Holiday Barbies to the collection, after all, the more they make, the more valuable the collection will be. Each year adds one more vintage year to all predecessors in the series! Enjoy everyone!