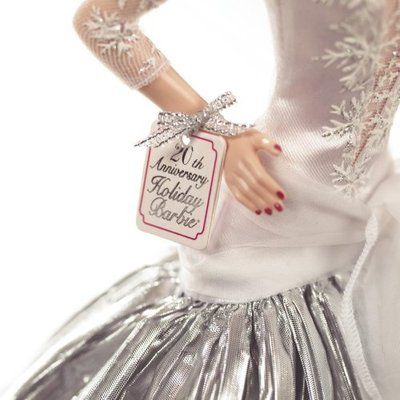 At first, it may seem overwhelming looking at all the possible Barbies you could buy.
Some might be tempted to buy the most expensive or rarest Barbie to start with, but this is bad idea.
The first Barbie you want to buy, is the cheapest one.
Doing this will give you a sense of pride in your collection and you won't feel like you're throwing away large amounts of money for only one Barbie on your shelf!
If you start with the smallest, you'll find your shelves filling up quickly. Afterwards, you can start to invest in the more pricey Barbies but by then you'll have plenty to show off on top of your most prized Barbies!
Also, depending on the time of the year, you might be able to get a great deal on the Barbies!
It's hitting into February right now so it's prime time for deals! All 2012 Holiday Barbies are basically bought up from the stores, however when it comes closer to the end of 2013, you can expect Matell to come out with a 2013 Holiday Barbie! Here's a hint though, do NOT buy it before Christmas. You want to go out and buy it the week AFTER Christmas ends. Why? Simple, it's deal time after the holidays.
Just like everything else, Holiday Barbies go on Clearance after the Holidays end. So instead of spending $40 on a Barbie, you can end up only spending $12! The only exception to this is the 'exclusive' Holiday Barbies, such as the 2012 K-Mart exclusive Barbie. This one was ONLY sold in K-Mart and was a Brunette. This made her a lot more rare then the common Blonde Barbie that was sold almost everywhere else. These ones you want to get your hands on quick before collectors realize their value and start grabbing them off the shelves!
If you're worried about the price, remember, many stores offer layaway closer to the Holidays, so you can make very small payments and then add your barbies to the collection once the final payment is made. This is a much easier way to acquiring the Barbies you need without breaking the bank as well!
One last thing, remember, Spring and Summer are coming, so look in the paper and on the internet for yard sales, garage sales and more importantly, ESTATE sales. Most people don't know what Holiday Barbies are worth, especially in an Estate sale, they're just trying to clear out everything that was in the house and they'll just stick a sticker on the box hoping it sells. This is a great place to scoop up a Holiday Barbie for cheap and add it to your collection!
I'll go into inspections for Barbies you receive through the mail next! So keep reading!!